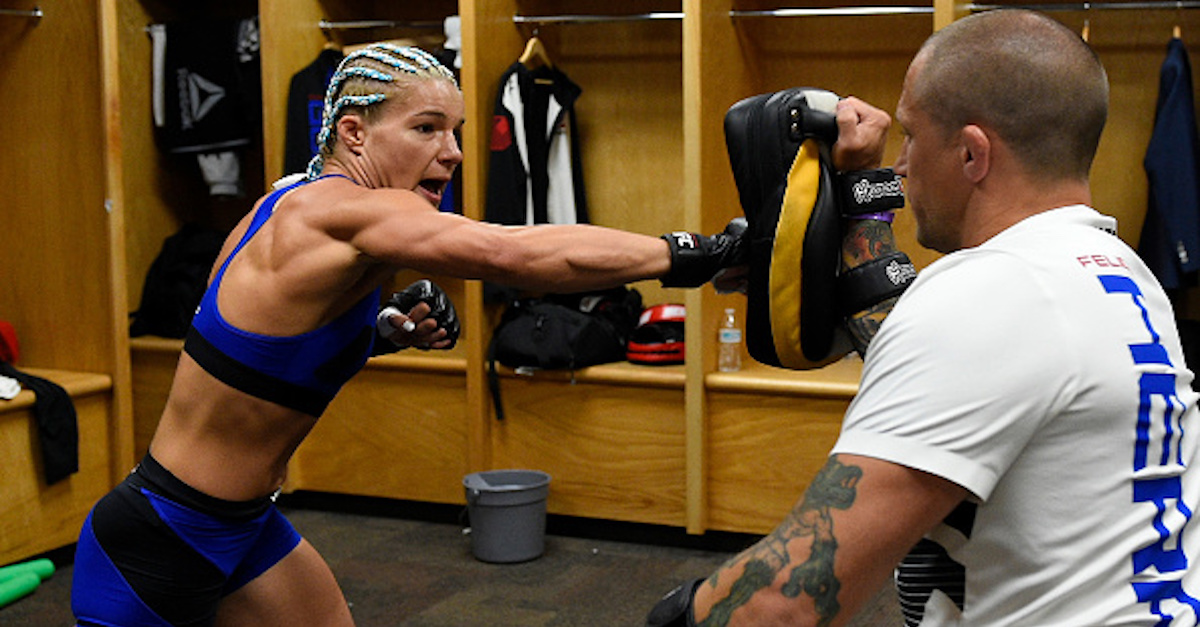 Zuffa LLC/Getty Images
OKLAHOMA CITY, OK - JUNE 25: Felice Herrig warms up prior to her bout against Justine Kish during the UFC Fight Night event at the Chesapeake Energy Arena on June 25, 2017 in Oklahoma City, Oklahoma. (Photo by Brandon Magnus/Zuffa LLC/Zuffa LLC via Getty Images)
Felice Herrig is one heck of a fighter in the UFC women's division. She's a 32-year old veteran who has fought in Bellator, Invicta FC, and is currently 4-1 in UFC after a unanimous-decision win over Justine Kish this past Sunday.
Herrig is a pro's pro and her record speaks for itself, but after her latest win over Kish, which propelled her MMA record to 13-6, she was brutally honest about what she felt was a lack of opportunity because of her age and what she feels is a lack of beauty.
MMA Junkie recorded her thoughts:
?Honestly, if you want to know the truth, I just feel like I?m not young and beautiful for the UFC to want to promote me,? she said after the event. ?It?s sad because I?ve really worked hard to be here. It?s hard to see these people who?ve not been through what I?ve been through and just got to the UFC at the right time, and they?re now getting all these opportunities.

?I?ve seen how hard I?ve worked to get here, and it just doesn?t matter because I just feel I?m not pretty enough, and I?m not getting any younger.?
Herrig went on to say that she thinks her performances in the Octagon should speak for themselves, and again, that's hard to argue. She doesn't think the problem is a UFC problem, but more so a business problem. She was careful to not call out President Dana White, but she was honest about her feelings.
?I?m not trying to make this like a point finger at the UFC or Dana White or anybody,? Herrig said. ?I know they have a business to run. ? I?m not the only fighter who feels like this. ? We put a lot out there as fighters, and I don?t know ? I feel like I?ve paid my dues, and nobody can deny that.
Herrig is undoubtedly one of the top UFC fighters in the world, but outside of the die-hard fans, how many people really know who she is?
Rhonda Rousey is 30 years old and a household name. Sure, she's immensely talented, but there's little doubting that the UFC machine threw all of its weight behind her star power. Miesha Tate doesn't have Rousey's star power, but she's also one of the sport's top stars, and UFC has no problem promoting her.
Herrig obviously believes she's just as talented as the aforementioned stars, and with her current record in the Octagon, that's hard to argue.
So why isn't she getting the hype of a Rousey or Tate? She seems to think that UFC's business model comes down to more than just record and performance.