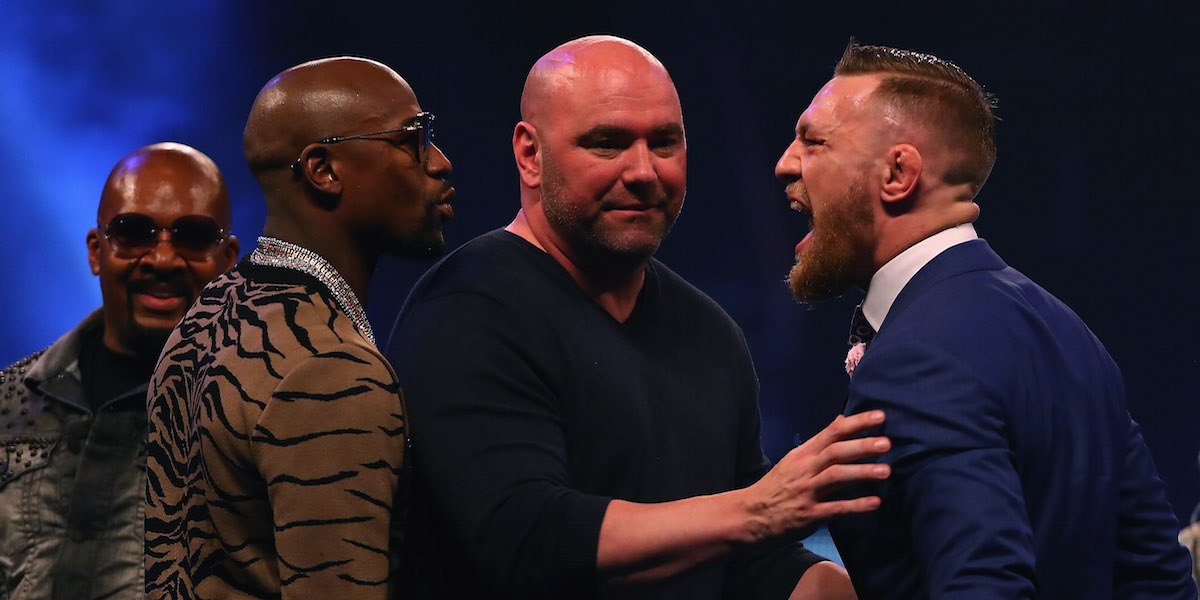 Matthew Lewis/Getty Images
LONDON, ENGLAND - JULY 14: Dana White splits Floyd Mayweather Jr. and Conor McGregor apart during the Floyd Mayweather Jr. v Conor McGregor World Press Tour at SSE Arena on July 14, 2017 in London, England. (Photo by Matthew Lewis/Getty Images)
Floyd Mayweather is right up there with Muhammad Ali when it comes to the conversation on the greatest boxers of all-time, but does that mean he could swing it in The Octagon?
Conor McGregor thought he could be a dual-sport athlete when he squared off with Mayweather between the ropes and apparently that has jogged Mayweather's mind into thinking he could do the same, except opposite.
That's right, folks, "Money May" is honestly thinking about fighting in the UFC, and he's not just spouting off about making money.
That's what many thought he was doing when he floated the idea in an online Q&A session. Here's what he said, via mmamania.com:
"I'm Money May. They just called me not too long ago and asked me to come back. I can come right back to the UFC. If I want, I can go, I can come right back to the UFC, I can go fight in the Octagon. I can do a three or four fight deal in the Octagon and make a billion dollars."
That sounds a bit like typical Mayweather bluster, but according to Joe Rogan, UFC announcer and Fear Factor extraordinaire, this is something that the boxer and UFC President Dana White are discussing.
The caveat here is White thinks Mayweather is crazy, but that doesn't mean the discussions aren't happening. After all, if White and the UFC can make money as well, they'll likely find a way.
Here's Rogan talking about Mayweather on his recent podcast, as passed on by mmaweekly.com:
"Dana told me that Floyd wants to make a deal in the UFC. Like legitimately," Rogan revealed on his latest MMA podcast. "So I texted him 'is Floyd really talking about fighting MMA?'. He goes 'yeah, he's f–king crazy, I told him he'd get killed but he's still talking about doing it'."
McGregor held up surprisingly well in his boxing match with Mayweather this past summer so perhaps that's the reason the boxer thinks he can transition to MMA.
Of course, they're completely different sports. You can be choked out, kicked, and grappled with in The Octagon and don't forget the cage so Mayweather may be crazy for attempting it.
Then again, he'll be a huge draw and make a ton of money.
Frankly, with that in mind, it sounds right up his alley.