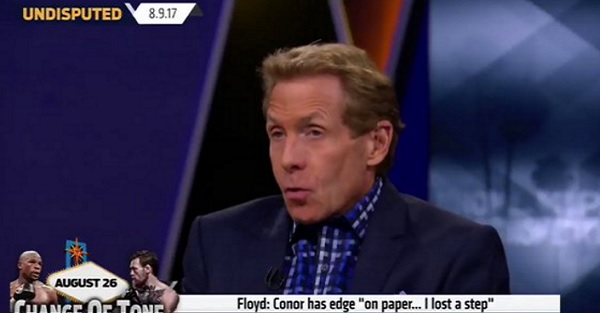 Twitter/@gifs_mma
There's a certain point where this is downright irresponsible.
FOX currently holds the television rights for UFC, so it makes sense that they would want their television personalities talking about the promotion and mixed martial arts in general. However, they might want to choose their analysts more wisely next time, as Skip Bayless and Shannon Sharpe just embarrassed themselves by trying to talk about the first fight between Conor McGregor and Nate Diaz in anticipation for the upcoming McGregor and Floyd Mayweather boxing bout.
Things that were wrong here:
Bayless on Diaz: "A guy who outweighed [McGregor] by, I'm gonna guess, 40 pounds."
Fact: McGregor weighed in at 168 pounds for the fight. Diaz? 169. Even if Diaz is a bit bigger than McGregor, neither guy had to cut weight for the fight since Diaz took it on short notice. Diaz wasn't 40 pounds bigger. Hell, he wasn't 20 pounds bigger.
Bayless also on Diaz: "And had five inches of reach on [McGregor]?"
Fact: It's two inches: 74-inches for McGregor compared to 76-inches for Diaz. In most UFC bouts, that's not really a statistically significant reach advantage. (See Jon Jones for a real reach disadvantage)
Bayless on Diaz's fighting style: "Sumo-style wrestling."
Fact: Diaz is a jiu-jitsu guy! There would be a lot of hangups about calling jiu-jitsu "wrestling", but calling it "sumo-style wrestling" couldn't be further from the truth.
Bayless on the finish to the fight: "And [Diaz] just pinned [McGregor]. He pinned him!"
Fact: There are no pins in UFC. McGregor tapped out to a rear-naked choke in the second round after Diaz reversed a takedown attempt.
The whole argument between Sharpe and Bayless also ignores the first round that McGregor won by outboxing Diaz. Most of the fight was a stand-up fight until the eventual takedown attempt and choke hold to end it. Heck, Diaz was able to do a lot of damage with his own boxing game, it wasn't just like he leaned on McGregor and got the fight to the ground.
As imagined, many fans and professional in the MMA community weren't thrilled with the discussion.
There are a lot of personalities in sports media that try and do their due diligence on topics they may not know well before they go on television and talk about the subject. Hopefully Bayless can do that next time he has a UFC topic planned on his show.