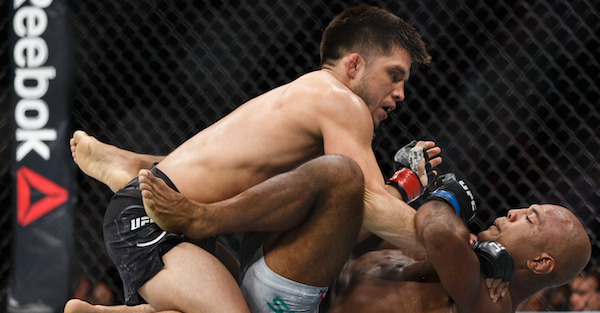 Codie McLachlan/Getty Images
EDMONTON, AB - SEPTEMBER 09: Henry Cejudo, top, fights Wilson Reis during UFC 215 at Rogers Place on September 9, 2017 in Edmonton, Canada. (Photo by Codie McLachlan/Getty Images)
Henry Cejudo's bout with Sergio Pettis for UFC 218 on Dec. 2 looked to be in doubt after Cejudo suffered burns in a fire, but his manager said the fight is still on.
Cejudo was asleep when the fire alarm went off at about 4 a.m. in northern California. There have been dangerous and deadly wildfires in California, and they spread to where Cejudo was staying. He initially went back to sleep and thought it was a false alarm, but he woke up again surrounded by smoke.
He jumped from the second floor balcony onto the ground, where he landed on fire and burned his foot. He also lost his Olympic gold medal from 2008 and several other personal belongings in the fire, and he managed to escape with only his cell phone.
Related: MMA fighter wins using WWE Walls of Jericho submission
Cejudo's manager, Ali Abdelaziz, told MMAjunkie that the burns on Cejudo's feet weren't severe, and he will be ready to go for the fight against Pettis.
Cejudo is 11-2 in his MMA career and 5-2 in UFC, while Pettis is 16-2 in MMA and 7-2 in UFC. Their fight will take place on Dec. 2 at Little Caesars Arena in Detroit.
Thankfully Cejudo didn't sustain any major injuries in the fire because it certainly could have been much worse.
(h/t MMA Junkie)