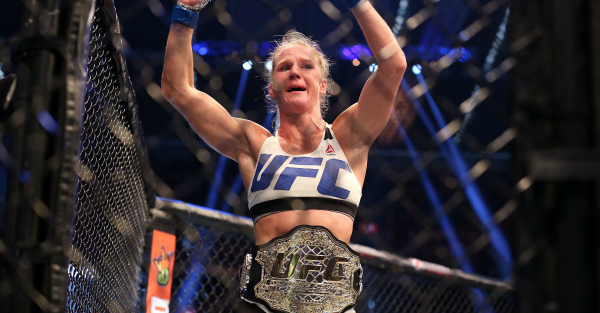 Quinn Rooney/Getty Images
in their UFC women's bantamweight championship bout during the UFC 193 event at Etihad Stadium on November 15, 2015 in Melbourne, Australia.
Newly crowned UFC women's featherweight champion Cristiane "Cyborg" Justino has never lost an MMA fight during her 12-year career.
But former UFC women's bantamweight champion Holly Holm's coach, Mike Winkeljohn, thinks she's "definitely beatable."
Winkeljohn told Submission Radio that he thinks Holm can "pick apart" the new champion and "there's no doubt about that."
The coach noted that a potential Justino vs. Holm fight is a real possibility and he likes his fighter's chances against "Cyborg":
Last month at UFC 214, Justino (18-1 MMA, 3-0 UFC) won her first UFC championship after a third-round TKO victory over Tonya Evinger (19-6 MMA, 0-1 UFC), which marked her 18th consecutive MMA win. Despite the impressive performance, Winkeljohn wasn't convinced that "Cyborg" was unbeatable.
"There's no doubt there's some holes in there and she's definitely beatable," he said.
Following her title victory, UFC President Dana White mentioned the possibility of a fight between Justino and Holm (11-3 MMA, 4-3 UFC), who recently ended a three-fight losing streak with a head-kick knockout of Bethe Correia.
"It seems like she's interested," White said of Justino. "I like Holly vs. 'Cyborg.' I think it's a good fight."
Following her win, Justino said that she would be open to all challengers, including Holm, who became the first woman to defeat former undefeated champion Ronda Rousey in 2016.
Winkeljohn said that Holm "will never turn down a fight," but will need time to put on the necessary weight to fight at 145 pounds, and would do so for the right amount of money.
"I think Holly can pick her apart. There's no doubt about that. What people don't understand is how strong Holly is too in the clinch, on her feet and moving and stuff. Cris is definitely going to try to do most of her damage by pushing her back against the cage. You know, good luck keeping Holly there and backing her up, coming in that hard.

"But yeah, Cris is really strong, but I think Holly wears her down and is able to stop her. You look at Holly's knockout percentage, I think her and Amanda Nunes are the biggest out there. She stops all of her fights, everybody else other than 'Cyborg.' So Holly has the power to stop 'Cyborg' just like 'Cyborg' has the power. The difference is Holly's got speed and her footwork."