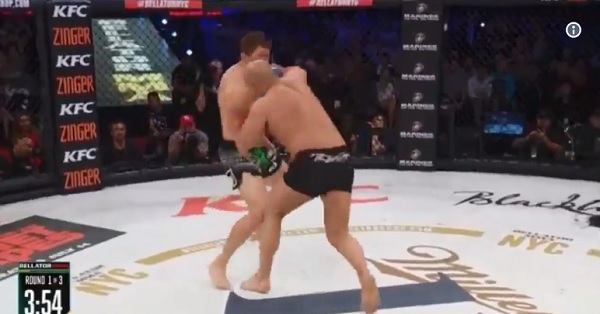 Twitter/Screenshot
You don't see this in MMA everyday.
Matt Mitrione (12-5-0) was taking on Fedor Emelianenko (36-5-1) on Bellator's NYC pay-per-view show on Saturday night, and the fight between the two heavyweights went quickly, as Mitrione scored the TKO over Emelianenko after a rare double-knockdown just one minute into the first round.
Wow! It's a big win for Mitrione, who is now 3-0 since he joined Bellator after consecutive losses to end his run in UFC.
Emelianenko is one of the greatest fighters of all time, but after that…. yikes. That was just ugly to watch. He could obviously rebound if he takes another fight (he's on a multi-fight deal with Bellator), but at 41… just no.