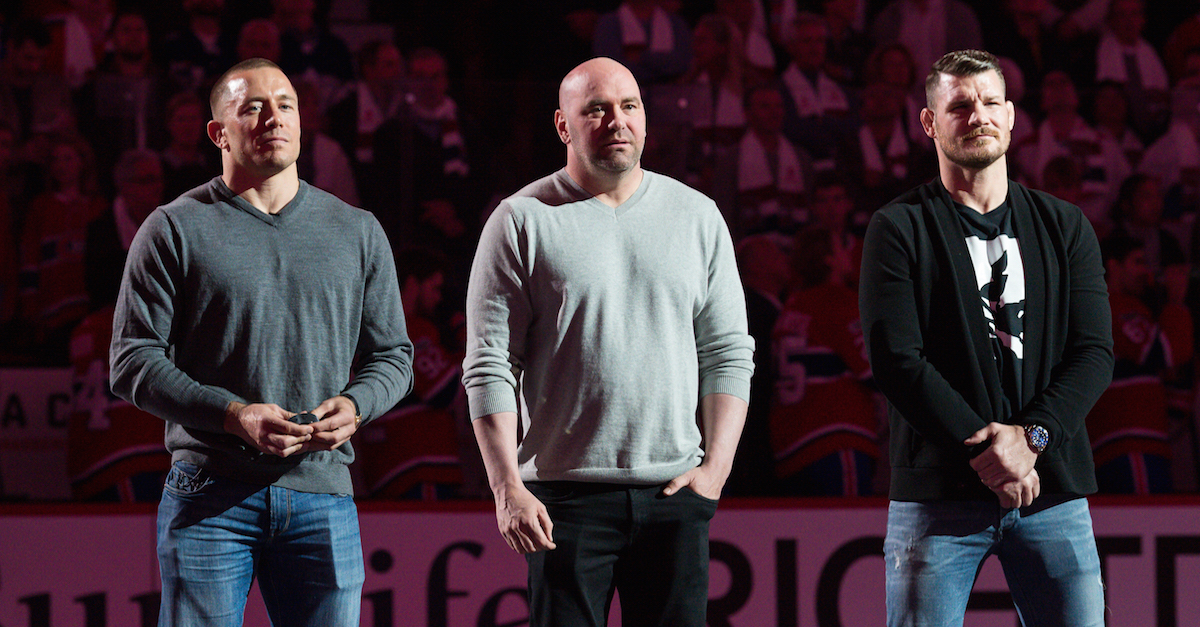 Minas Panagiotakis/Getty Images
MONTREAL, QC - OCTOBER 14: President of the UFC Dana White stands in-between Georges St-Pierre (L) and defending middleweight UFC champion Michael Bisping during the NHL game between the Montreal Canadiens and the Toronto Maple Leafs at the Bell Centre on October 14, 2017 in Montreal, Quebec, Canada. (Photo by Minas Panagiotakis/Getty Images)
While UFC Middleweight Champion Michael Bisping prepares for his fight against a returning Georges St-Pierre, he'll reportedly also have to deal with a legal battle.
Bisping is being accused of assault, battery and false imprisonment by Antonio Georgakopoulos, 19, following an incident in which he was accused of choking out a teenager at a 24-Hour Fitness gym earlier this year, as first reported this week by TMZ.
The incident reportedly occurred at an Anaheim, Calif., gym in July, according to MMAFighting.com after obtaining the complaint, which was filed in California Superior Court in Orange County.
The complaint accuses Bisping of yelling at the 19-year-old for picking up weights he claimed to be using. Bisping allegedly called Georgakopoulos an "idiot," "you little punk" and also asked him "you don't know who I am!"
The complaint also accuses the UFC champion of extending his right arm and choking Georgakopoulos for "two or three seconds." According to the document, "a larger man" attempted to separate the two, but the fighter asked to take the incident outside.
At that point, the 24-Hour Fitness staff intervened and separated Bisping, Georgakopoulos and a crowd of on-lookers that gathered after the incident began.
Police reportedly arrived and issued a private persons arrest for Bisping on charges of assualt and battery, according to the complaint. However, Anaheim PD public information officer Sgt. Daron Wyatt denied that an arrest was made to MMA Fighting.
According to Wyatt, "it was determined there was insufficient evidence to file a criminal case," after an investigation was submitted to the City Attorney's office.
Georgakopoulos' complaint alleges that he had "intense throat pain," the day after the incident and visited a specialist, who recommended treatment. He also claimed to have "nightmares, difficulty sleeping and anxiety" following the incident, according to the complaint.
The 19-year-old's complaint also names UFC's parent company, WME-IMG, as well as 24-Hour Fitness.
Bisping will defend his UFC Middleweight Championship against St-Pierre, a former two-time UFC Welterweight Champion, at UFC 217 on Saturday, Nov. 4 at Madison Square Garden.