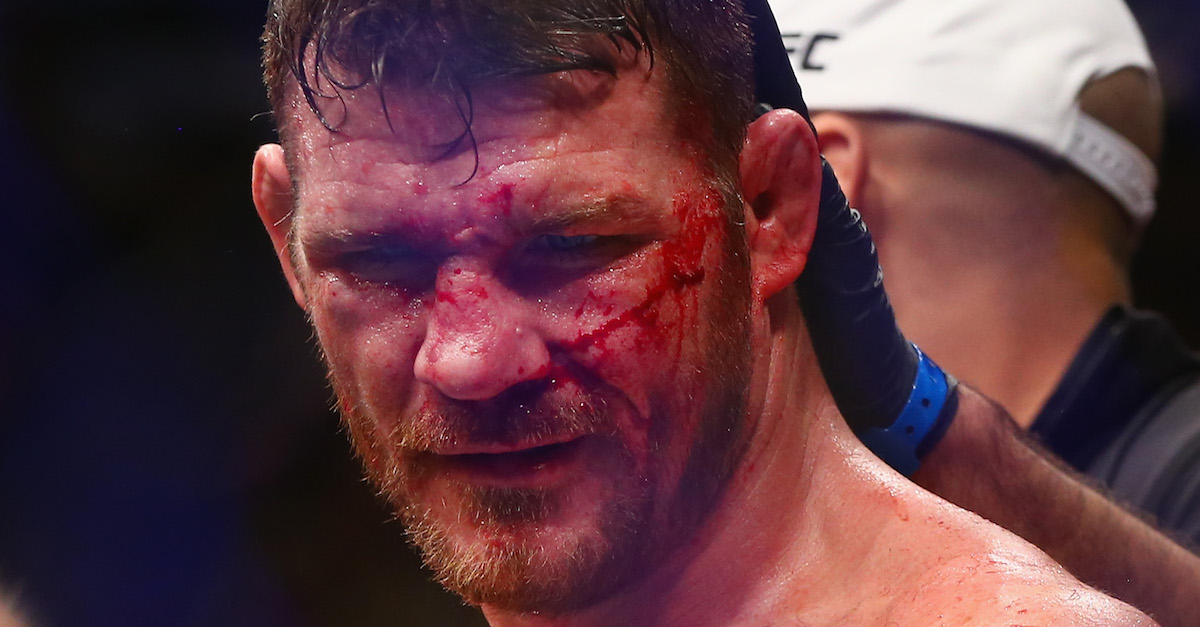 Mike Stobe/Getty Images
NEW YORK, NY - NOVEMBER 04: Michael Bisping of England looks on following his UFC middleweight championship bout against Georges St-Pierre of Canada during the UFC 217 event at Madison Square Garden on November 4, 2017 in New York City. (Photo by Mike Stobe/Getty Images)
At the age of 38, Michael Bisping has accomplished quite a bit in the MMA world and it would make sense on some level for the middleweight to retire on the heels of two straight losses.
However, the former champion is apparently battling a big-time decision in that regard and he indicated on the Believe You Me podcast (h/t MMA Fighting) that his choices are retirement or one last hurrah in London later in the spring.
"I'm just debating whether or not I take the fight. For me, whether or not those people can see, I have a bad eye. I have a bad eye and my wife doesn't want me to continue fighting, and my manager doesn't want me to continue fighting. I see out of that eye but not as well as I used to, and I'm still a young man so it's kind of the reason I may hang the gloves up. My wife and manager and friends and people close to me say, 'Mike, what do you want to do that for? You've done it. You've had the belt.' I've done it. I've done what I set out to achieve.

"I kind of want to go do one last fight in England and they're like, 'So what? Five years from now or a year from now, people are gonna forget about all that and you can injure yourself even more.' but you can injure yourself in any fight, whether or not you're at 100% health or not. So that's what we're up to and I don't know."
Beyond that, Jon Anik brings word from Bisping on what he "always envisioned" for a retirement fight.
Most people couldn't possibly identify with Bisping's decision, as there are real health and family concerns on one side with competitive and financial draws on the other. Regardless, this is a story that many in the MMA world are following closely and, in the end, his decision must come in the very near future in order to make the March 17 date for what would be a well chronicled fight.