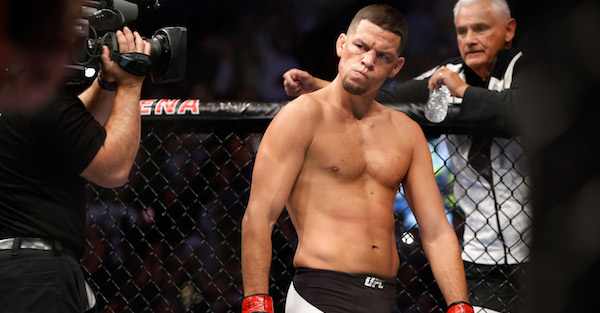 Steve Marcus/Getty Images
LAS VEGAS, NV - AUGUST 20: Nate Diaz eyes Conor McGregor from across the Octagon before their welterweight rematch at the UFC 202 event at T-Mobile Arena on August 20, 2016 in Las Vegas, Nevada. McGregor won by majority decision. (Photo by Steve Marcus/Getty Images)
Nate Diaz wants to fight Tyron Woodley, but his price demand the fight is too high for the UFC.
Diaz's boxing coach, Richard Perez, told Submission Radio that Diaz wants $15 million to fight Woodley, and the UFC doesn't plan on meeting those demands. Diaz wanted $30 million for his third match with Conor McGregor.
Related: Triple H discusses WWE?s interest in Conor McGregor, Ronda Rousey
"The UFC doesn?t want to give Nathan the money," Perez said. "15 million. Easy. Cause, I mean, he?s a star right now. McGregor can?t even fight right now, he got suspended. And Woodley?s trying to fight everybody. They?re being too greedy with the money right now, it?s hurting a lot of fighters.
"They?re gonna probably make, oh gosh, pay-per-view is going to be just out there because they?re curious on what Nathan?s going to do with Woodley. I mean, he?s got the belt. So what? The belt don?t mean nothing anymore. It?s about who you?re fighting (if you want) to make the money. So they?re making big money, they?re pocketing a lot of it. You guys know it too. Oh gosh, it?s ridiculous."
As a result, Woodley and Diaz won't be fighting at UFC 219. Woodley called Diaz "scared" to fight him.
Diaz is looking for the big money after splitting his last two fights with McGregor, but it doesn't appear as if the UFC wants to give him a huge deal for a fight.
(h/t MMA Mania)