UFC screenshot
Flyweight championship: Demetrious Johnson (27-2) def. Ray Borg (11-3) by submission
(Johnson -1200)
Round 1
Johnson spent most of the first round on top of Borg, effortlessly transitioning and seeking submission attempt one after another.
Round 2
Borg pressured Johnson early, pushing him back into the cage, faked a flying knee and wrapped him up. Johnson got out of a guillotine choke, then dumped Borg off of his back on a second choke attempt midway through the round.
Round 3
Johnson continued his dominant ground dismantling of Borg. He worked flawless side control before mounting Borg and taking his back. Borg fought out and had control of Johnson before the end of the round.
Round 4
Borg landed a physical takedown to start the fourth, but again it was all Johnson, who quickly took control and cut his challenger with a nasty elbow.
Johnson continued his dominant round with a nasty takedown where Borg's head bounced off the mat.
Round 5
Borg yet again came out flying to open the round, but Johnson took him down effortlessly. He made one of the most seamless transitions in UFC history to end the bout with a suplex turned into an armbar for the finish.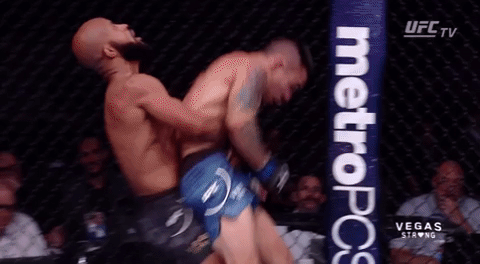 Johnson's last loss came in 2011 against Dominick Cruz, by decision. He drew Ian McCall in 2012 and hasn't looked back, winning 12 consecutive fights as one of the most dominant fighters in UFC history.
Johnson came into the fight tied for the all-time record for title defenses.
After losing his UFC debut, Borg has shown an ability to fight gritty bouts, with five of his seven contests going to a decision. He came into Saturday night's contest on a two-fight win streak.