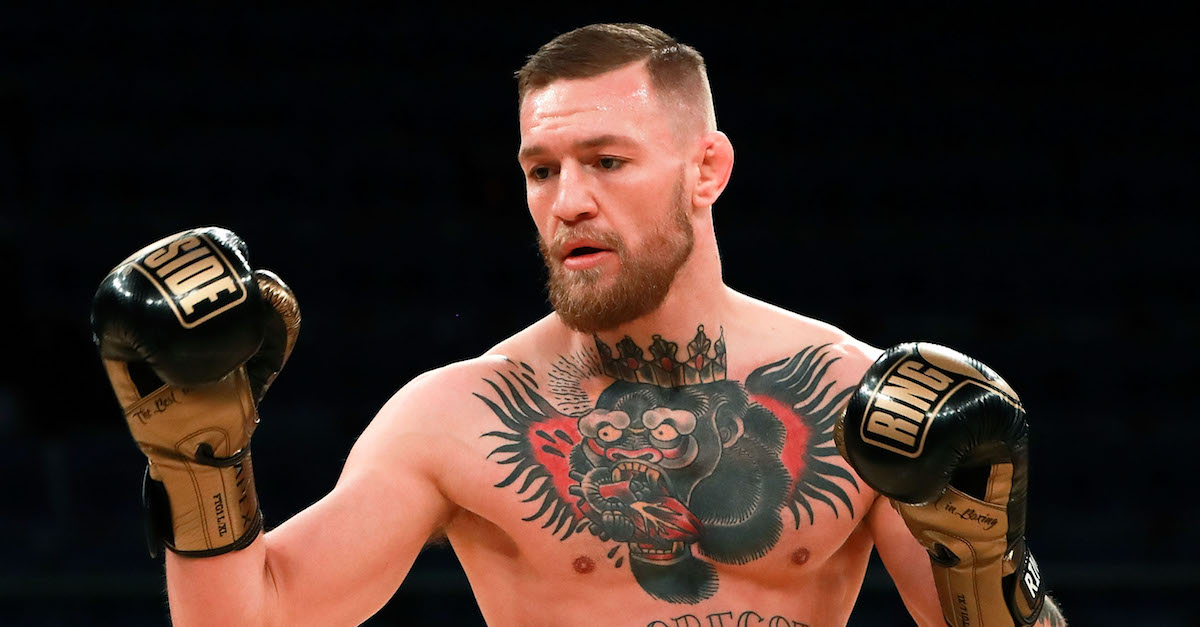 Michael Reaves/Getty Images
NEW YORK, NY - NOVEMBER 09: UFC Featherweight Champion Conor McGregor takes part in UFC 205 Open Workouts at Madison Square Garden on November 9, 2016 in New York City. (Photo by Michael Reaves/Getty Images)
Conor McGregor is slated to face off against Floyd Mayweather on August 26, and the "Notorious" UFC champ may not have much of a shot against the unbeaten "Money" Mayweather.
That video, alongside this of McGregor's training does not bode well for the UFC champion.
McGregor is a fine striker, with power and precision. But he'll need more than that to beat one of the best boxers ever, Mayweather.
Per MMA Mania:
?Conor showed me that he?s got some boxing background. His counter left hand was pretty good,? van Heerden told The Washington Journal. ?What chance does he have against Mayweather, the best boxer in the world? A puncher?s chance. So he swings well; he swings a big shot. Maybe he lands it. That might seal it for him. But honestly, do I see Conor beat Mayweather, no, I don?t.?
Mayweather (49-0) hasn't won by TKO since 2007, and as any boxing fan from the past 10 years has seen, he's quite willing to out-point his opposition. Out-pointing doesn't necessarily mean he's taking it easy, utterly embarrassing anyone who has stepped to the 40-year-old Mayweather over his tenure at the top.
Now, McGregor makes his debut in a boxing ring against of the greatest boxers of all-time with zero in-ring experience. Sure, McGregor has fought MMA since 2007, compiling a 21-3 record while knocking out or stopping just about anyone who comes his way. But boxing is a different animal, and he won't be able to set up strikes with straight leg kicks or elbows. His three losses have each been by submission, but he won't have to worry about that in this strictly boxing match. Instead, it'll all be about reacting, countering and trying to finagle around Mayweather's lightning quick strikes.
Judging by limited viewing of his sparring session, it may not go well.