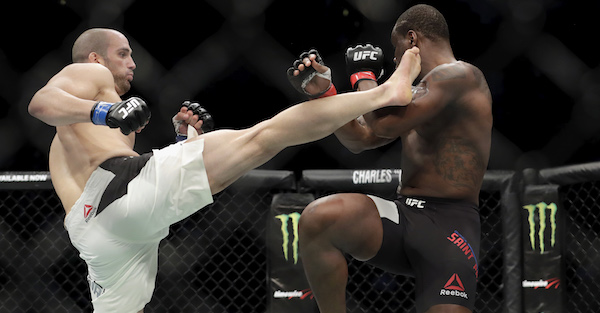 Tim Warner/Getty Images
HOUSTON, TX - FEBRUARY 04: Volkan Oezdemir (blue tape) kicks Ovince Saint Preux (red tape) in the Light Heavyweight Bout during UFC Fight Night at the Toyota Center on February 4, 2017 in Houston, Texas. (Photo by Tim Warner/Getty Images)
UFC fighter Volkan Oezdemir was charged with aggravated battery causing bodily harm or disability after his arrest stemming from a bar room altercation on Aug. 12.
Oezdemir was arrested on Saturday in Fort Lauderdale, Florida, and the charges carry a maximum sentence of 15 years.
A police report via MMAFighting.com details the incident where the alleged victim, Kevin Cohen, claims he was knocked unconscious by Oezdemir outside of the bar Capone's.
"Kevin Cohen, the alleged victim, told police that he went outside after hearing a friend had been knocked unconscious following a verbal altercation with another man. Upon asking who knocked out his friend, Cohen told cops that he looked up and was hit in the face.
"Cohen said he lost consciousness for about 14 minutes and was taken to the hospital, where he was treated for concussion symptoms and given multiple staples for lacerations. Cohen said people present outside Capone?s told him it was Oezdemir that hit him."
Related: Watch a former UFC heavyweight champion throw a boomerang at another fighter
The 28-year-old Oezdemir is 15-1 as an MMA fighter and 3-0 in UFC, and he was expected to fight Daniel Cormier in a title fight sometime in early 2018.
But after Oezdemir's arrest and pending charges, that fight is obviously now in jeopardy.
MMA Junkie reported that the UFC is investigating the incident to determine what actions to take.
Oezdemir's last fight was a win over Jimi Manuwa at UFC 214 where Ozedmir won the fight in 42 seconds.