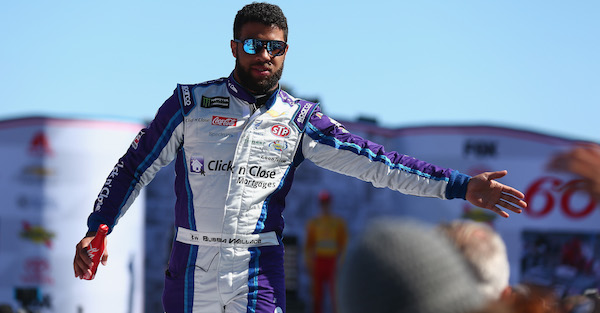 Sarah Crabill/Getty Images
DAYTONA BEACH, FL - FEBRUARY 18: Darrell Wallace Jr., driver of the #43 Click n' Close Chevrolet, walks across the stage during driver introductions prior to the Monster Energy NASCAR Cup Series 60th Annual Daytona 500 at Daytona International Speedway on February 18, 2018 in Daytona Beach, Florida. (Photo by Sarah Crabill/Getty Images)
Bubba Wallace is already reaping the benefits from his historic finish at the Daytona 500.
Wallace finished second ? which is the highest finish at the Daytona 500 for any African-American driver in NASCAR history ? and he proved he belongs in the Cup Series. A day after the race, Wallace found out he's secured a primary sponsor for his No. 43 Chevrolet with Richard Petty Motorsports.
Related: Bubba Wallace can?t keep it together after an emotional Daytona 500
NASCAR Racing Experience will become the primary sponsor for Wallace at the Folds of Honor Quiktrip 500 at Atlanta Motor Speedway.
"It?s great to see partners coming on board to support us," Wallace said in a statement. "I?m all about getting fans involved in racing, and nobody does that better than the NASCAR Racing Experience. They allow fans to race the cars we drive. It?s the best way to get on the same track and in the same cars we race. That?s really cool and I?m pumped they are on our car this weekend."
Wallace has improved upon his finish in each of his five Cup Series races, and he has the potential to become a star in NASCAR.
Securing sponsorships is vitally important for NASCAR drivers, and plays a major role in determining whether they can secure long term contracts with major teams. If Wallace can continue his success on the track, it will certainly help him secure more sponsorships down the road.