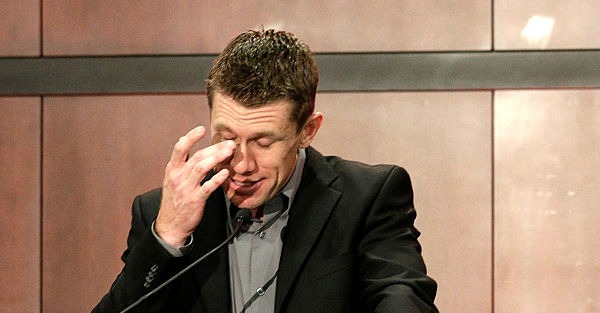 Bob Leverone/NASCAR/Getty Images
HUNTERSVILLE, NC - JANUARY 11: during a press conference at Joe Gibbs Racing on January 11, 2017 in Charlotte, North Carolina. (Photo by Bob Leverone/NASCAR via Getty Images)
After announcing he won't race in 2017 in order to pursue other interests and spend time with his family, popular NASCAR driver Carl Edwards disclosed a major factor in his decision.
"I don't like how it feels, the hits that we take," Edwards admitted, per Jalopnik. He explained that while he was still currently fit to race, he had been following Dale Earnhardt Jr.'s slow recovery from a concussion and decided to walk away from NASCAR while he still could. "…It's a contact sport." Edwards said, "It's part of what makes it fun, but you have to look at the risks. Fortunately because of all the work people have done, I can stand here healthy."
Related: One of the biggest names in NASCAR, coming off a concussion, has been cleared to race at Daytona
NASCAR has been a leader in safety technology, from mandatory HANS devices to SAFER barriers, but concussions and CTE are a major concern going forward for racing and sports in general.
According to Fox Sports, Joe Gibbs Racing will announce that Daniel Suarez — the defending NASCAR XFINITY Series champion — will replace Edwards as the No. 19 Monster Energy Cup Series Toyota for the upcoming season.
Edwards, 37, has notched 28 victories in his career, which began in 2004. He also has 22 poles, 124 top fives and 220 top tens in 445 starts. The closest he came to winning the NASCAR Premier Series championship was in 2011 when he tied with Tony Stewart. Stewart won the championship tiebreaker due to having the most race victories that season.
This was a shocking decision from Edwards, and it will be intriguing to see if he ever makes a comeback.
H/T: Jalopnik