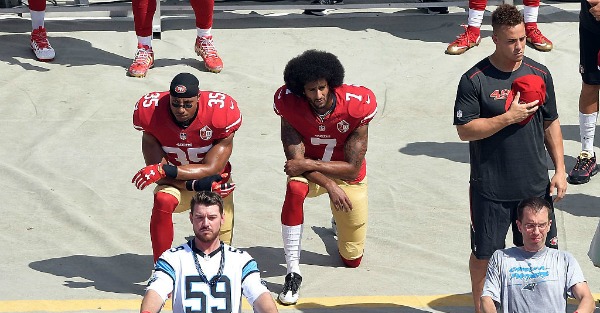 Grant Halverson/Getty Images
during the game at Bank of America Stadium on September 18, 2016 in Charlotte, North Carolina.
A Massachusetts high school football player, who decided to kneel for the national anthem in solidarity with Colin Kapernick, was bombarded with racist comments by a fellow student and now police are investigating.
The Great Barrington Police Department, along with the FBI, are looking into a hate speech that was directed at a player at Monument Mount Regional High School after he took a knee during the national anthem Sept. 23, The Berkshire Eagle reported.
According to police, the following Monday — Sept. 26 — a student in the high school approached the player and told him he would "lynch" him and "use his body for target practice."
"The FBI heard about the incident and also called us to inquire and offer any assistance," Police Chief William Walsh said in a statement. "We are keeping them advised of the investigation."
The student reported the incident to school officials, who are now investigating with local police. No action has been taken pending the outcome of the investigation, the report stated.
RELATED: Band members join in on national anthem protests
As similar protests have grown among high school and youth football programs across the country in recent weeks, so too has their opposition.
Rodney Axson, a high school football player in Ohio, received racist death threats after kneeling during the anthem last month.
After players for the Beaumont Bulls, a youth football team for 11 and 12-year-olds in Beaumont, Texas, knelt during the anthem before a game last month, many received internet comments calling for the coach to be lynched and the children to be killed.