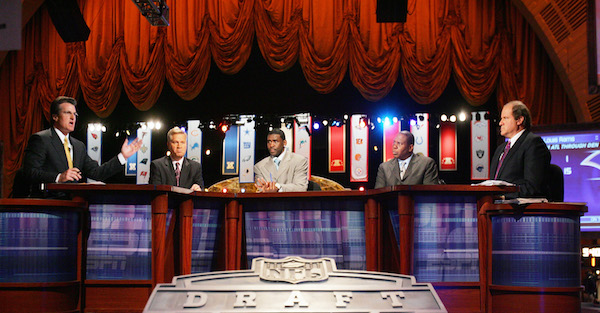 NEW YORK - APRIL 29: (L-R) Mel Kiper, Chris Mortensen, Michael Irvin, Tom Jackson and Chris Berman of ESPN broadcast their coverage during the 2006 NFL Draft on April 29, 2006 at Radio City Music Hall in New York, New York. (Photo by Chris Trotman/Getty Images) *** Local Caption *** Mel Kiper;Chris Mortensen;Michael Irvin;Tom Jackson;Chris Berman
Reports stunned the sports world that historic ESPN personality Chris Berman would be retiring at the end of next season.
Related: Chris Berman reportedly retiring after next season 
Berman's agent has now reportedly denied those reports:
Richard Deitsch at Sports Illustrated, who is generally pretty keyed in on these topics, noted that while Berman won't return to Sunday NFL Countdown, Monday Night Countdown nor the network's NFL Draft coverage, he hasn't decided whether he'll retire or not.
"According to ESPN sources, the possibility exists for Berman, 61, to have some sort of broadcasting emeritus role in 2017–18, which could include working on the network's NFL postseason or Super Bowl coverage."
Trey Wingo and Suzy Kolber have been tabbed as potential replacements.
In recent weeks, Heather Cox, Cris Carter, Ray Lewis, Joe Schad, Trent Dilfer, Mike Tirico and Skip Bayless have reportedly left the network.