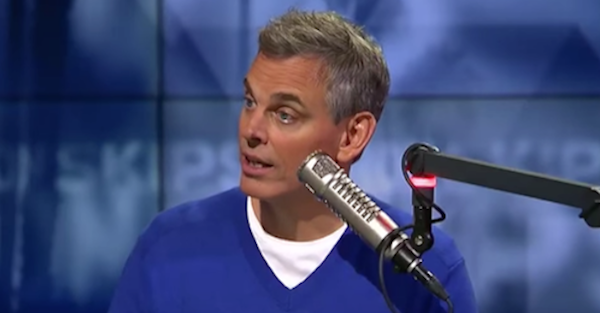 @TheHerd/Twitter
The Herd with Colin Cowherd/YouTube
Professional shock jock Colin Cowherd believes he knows which city in the United States qualifies as the dumbest sports city in America. It may give his answer away, but said city is also known to make a pretty mean cheesesteak and its fans once threw batteries at Santa Claus.
Cowherd, who's not necessarily known for his moderate sports opinions, mind you, is of the mind that Philadelphia is the dumbest sports city in America.
His reasoning? It all started with a coach in a completely different city: Andy Reid of the Kansas City Chiefs.
Reid, of course, coached the Philadelphia Eagles for 14 seasons.
Here's Cowherd:
"I wanna talk about the city of Philadelphia…which has to be the dumbest sports city in America because they ran Andy Reid out of town. This is amazing. Andy Reid has won 60-percent of his NFL games with average to below average quarterbacks. Nobody has done that in 20 years. He got to five NFC championships and a Super Bowl with a quarterback with an 85 passer rating in his career and a 59 percent completion ratio, Donovan McNabb. Nobody does that."
Cowherd went on to relay that Reid has won 61 percent of the NFL games he has coached in, which is actually better than coaching legends like Mike Holmgren, Bill Parcells and Tom Coughlin. Tom Landry was even brought up as a coach Reid can stack up with in NFL circles.
Yet even with all of that, including the multiple NFC Championship appearances, Cowherd finds it unbelievable that Philadelphia "ran him out of town."
The FS1 personality didn't stop with the NFL, though. He also mentioned Terry Francona, who coached the Phillies from 1997-2000.
"They ran him out of town. He's the best manager in baseball. He wins everywhere. Since leaving Philadelphia Terry Francona has been managing 14 years — he's never had a losing record. Do you get how hard that is?"
Believe it or not, Cowherd even brought up Jay Wright, who's currently the head coach at Villanova, the 2015-16 NCAA Tournament Champion.
"They've been on Jay Wright — before he won the title — for years. Are you people crazy?" Cowherd wondered aloud.
And as if all that were not enough, Cowherd took Philadelphia to task for what is certainly now ancient history, and it has nothing to do with sports. Sure, it was a bit tongue-in-cheek, but he also brought up the fact that Philly was once the nation's capital, but it no longer is.
"You blew that too," Cowherd said. "You probably ran George Washington out of town."
Along with making fun of the fact that he doesn't think Philadelphia fans like the word read — thus the reason why they "ran out" Coach Reid — Cowherd also took a shot at Philly fans cheering Michael Irvin's career-ending injury.
"I can't trust a fanbase that has a courtroom and a jail under their stadium," Cowherd said.
This was a conversation that started centered on Kansas City's Monday Night Football win over Washington.
It ended with a rant that won't make Cowherd any friends in Philadelphia, though he probably never had any there to begin with anyway.