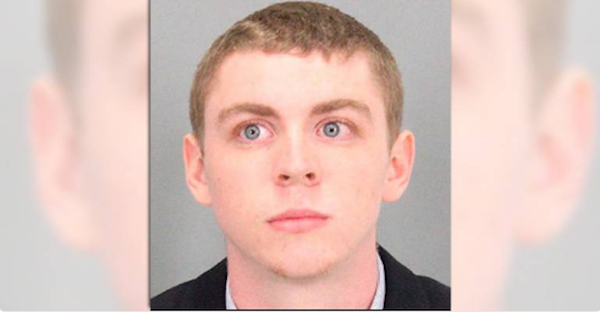 Former Stanford swimmer Brock Turner was supposed to face 14 years in jail for sexually assaulting an unconscious woman behind a dumpster.
Now comes additional detail in his case that is sure to cause even more questions and controversy.
Testimony given at the trial states that Turner attempted to kiss and grope the victim's sister before the sexual assault. According to prosecutors, Turner tried to pursue the victim's sister "without any sort of invitation or interest." The names of the victim and the sister have been removed.
RELATED: Brock Turner proves he has no soul after making this outrageous claim
Its the latest development in the increasingly disturbing case in which a judge is under fire for giving Turner a light sentence — he'll be released in early September — and his family is under attack for writing letters that focus on him and not the victim.
From the L.A. Times:
"In the sheriff's report, Jane Doe 2 said she, her sister and friends had been in the outside patio area of the fraternity house where they met three guys. One of the guys was more aggressive, she said, and came up to her and one point "started making out on her cheek" before going for her lips. She laughed in shock and the guy left.

A short time later, while she was talking to a friend, the "aggressive guy" came back and tried to make out with her again. He grabbed her from in front, at her lower waist, and kissed her on the lips, the report said. She said she had to leave and wiggled out from his hold.

In her impact statement, Jane Doe 2 addressed her encounter with Turner before her sister's assault: "In my head, I still have an image of the assailant right before he tried to kiss me earlier in the evening; the face of the man who assaulted my sister, is burned into my memory."
RELATED: Brock Turner will be out of jail even sooner and he'll be protected inside
The 21-year old student wrote a scathing letter that was included in court documents, and it said in part, "The damage you inflicted is irreversible." Here's one excerpt from the letter that's particularly pointed.
"Today I am still sick thinking about it. Sick to my stomach every time I am reminded of the incident. I am still sad that I was not there to protect her. We have both been devastated, we have been speechless, and we have cried until our bodies ran dry."
RELATED: Star athlete faced 14 years in prison for sex crime. Judge only sentences him to 6 months
She left the party to walk her friend back to her dorm room because she was feeling sick. During that time, she called her sister nine times before finally texting her, "I'm scared." She went on in the letter to ask a question many others have been wanting to know the answer to for some time now. "Where has your remorse been? Really, truly: do you feel guilty because you were sexually assaulting her, or because you were caught?"
The victim's sister ended her statement by saying, "The only sorrow I feel for you is that you never got to know my sister before you assaulted her. She's the most wonderful person in the world."
You can find the letter here in its entirety.
[h/t Bro Bible]