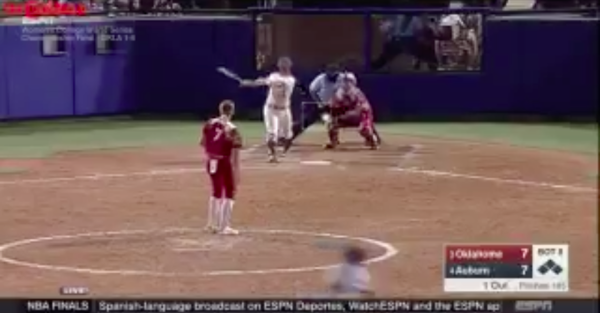 Auburn was down 7-0 in the second inning of game two in the best-of-three College World Series against Oklahoma–it was "win or go home" for the Tigers. But the Tigers roared back, and hen Emily Carosone stepped up to the plate, the game was tied 7-7 with the bases loaded.
All she needed was to bring one home.
https://twitter.com/CauldronICYMI/status/740382642768510976/video/1
Who wants to do things the easy way anymore? Carosone didn't seem like she did, and rocked a game-winning, series-saving grand slam, and overcame the largest deficit in the history of the Championship round–with runs to spare.
Auburn coach Clint Myers was praised his team's come-from-behind victory and had a little fun with their .
"You can't count us out," Myers said. "We have a very, very good offense. They're going to swing the bats. If you've noticed, they like to do it late and make everything very exciting."
If Carosone's late-game heroics weren't enough, Auburn wouldn't have been in that position had it not been for Tiffany Howard going thief in the night, robbing Shay Knighten of what would have been a two-run, go-ahead home run.
The play kept the game tied at 7-7 at the bottom of the sixth inning, setting up Carosone's dramatic finish.