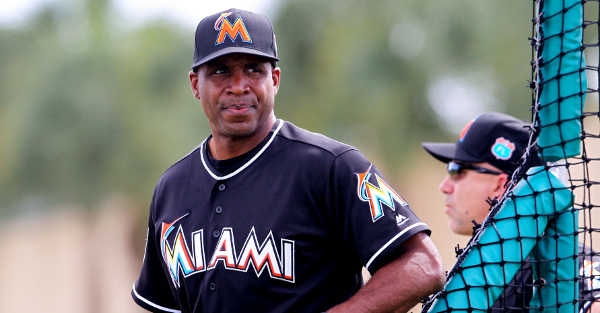 JUPITER, FL - FEBRUARY 23: New Marlins hitting coach Barry Bonds #25 during a Miami Marlins workout on February 23, 2016 in Jupiter, Florida. (Photo by Rob Foldy/Getty Images) *** Local Caption *** Barry Bonds
Some things fall into the category of "things you never forget how to do." For Barry Bonds, that'd be slugging home runs.
The 51-year-old Marlins hitting coach still has it, so much so that he topped the Marlins' best slugger, Giancarlo Stanton in a friendly "home run" competition during spring training — and Stanton is, arguably, the premier power hitter in the game.
Unfortunately, the lone reporter who had the opportunity to capture the moment on video didn't.
You can't really call it a competition though, as the two combined for only seven homers (Bonds four, Stanton three). Still Stanton, 26, walked away impressed by his coaches ability.
"Hit another 50-year-old out there, and he'd probably snap his back in half," Stanton said, according to ESPN. "Either way, that was probably one of the coolest things we've done because we all had a good time while we were getting our work in."
Let us not forget Bonds is the all-time leader in home runs with 762 (yes, an asterisk for steriods) so it's not like this is new to him. It's like riding a bike?you don't forget a skill like that.