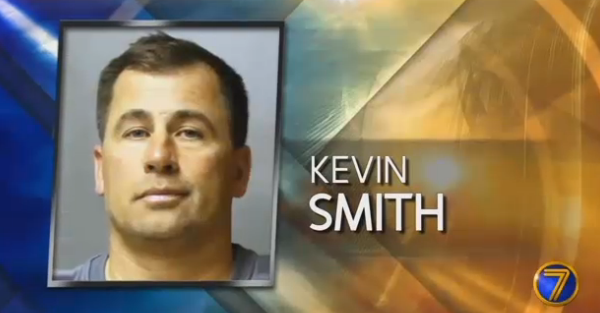 WWNY-TV Screen Shot
A varsity baseball coach in a small, upstate New York village has been arrested after authorities say he demonstrated a chokehold on one of his players, who was hurt in the process.
The incident was reported by WWNY-TV.
The station reported that, at the start of a recent practice, some of the members of the Indian Hills (NY) baseball team were performing mixed martial arts moves. The coach, Lloyd Kevin Smith, 46, told players he could show them the right way to do  the moves.
Smith – based on police information obtained by WWNY – performed a chokehold on a 16-year-old student, who went unconscious, and fell to the floor and hit his head on a glass and metal door. When he awoke, the player said he had a sore neck, but went to practice anyway. But when he got home, he complained of nausea and blurred vision. His parents took him to the hospital, where he was diagnosed with a concussion, the report said.
Smith was arrested on suspicion of endangering the welfare of a child. School officials, as per WWNY, were tight lipped and wouldn't say whether Smith was still coaching the team.
Philadelphia, NY, a small village with a population of less than 2,000 (based on the 2010 census) is about 90 minutes north of Syracuse and 5.5 hours northwest of New York City.