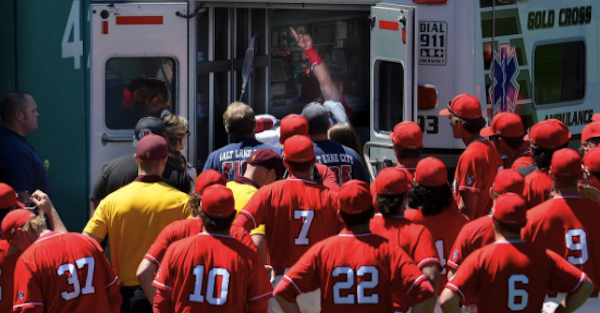 Twitter/@ScottSommerdorf
On a national scale, it is very difficult for college baseball to gain footing. With that in mind, it normally takes something very bad or very exciting to make real waves in the news cycle and, this time, it was an unfortunate combination of both.
In a Sunday game between the Utah Utes and Arizona State Sun Devils, Utah outfielder DaShawn Keirsey Jr. attempted to rob a home run with what would have been a tremendous catch at the wall. Unfortunately, things did not go as planned.
As you can see, Keirsey Jr. did not have his bearings when barreling full speed toward the centerfield wall and he struck the barrier quite hard. As a result, the sophomore outfielder fell to the ground and was checked medically for an extended period of time.
From there, Keirsey Jr. was loaded into an ambulance on the field, but fortunately things were not as bad as they could have been given that he gave a positive signal to teammates and opposing players assembled around him.
Keirsey Jr. put forth an incredible effort on the play and, hopefully, there will be no long-term health effects to the collision that he endured with the wall.