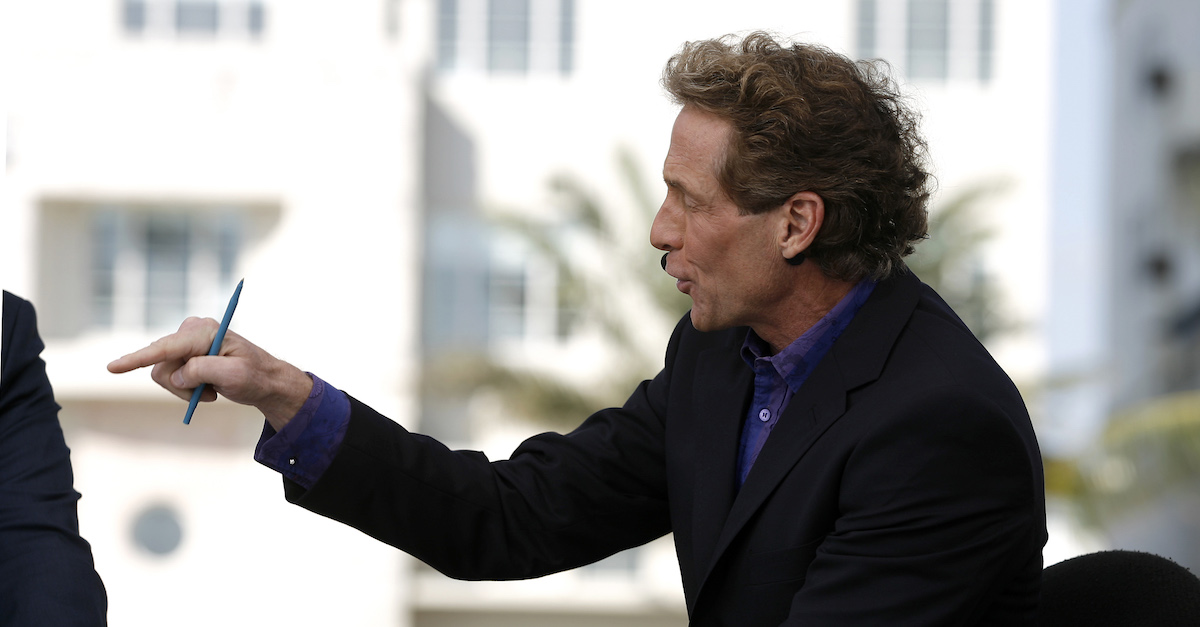 Allen Kee/Getty Images
Cold Pizza host Skip Bayless on the ESPN set in Miami, Florida on February 1, 2007. (Photo by Allen Kee/Getty Images) *** Local Caption ***
Despite rumors of their demise, ESPN is still plugging along, according to their latest press release.
While Clay Travis has reported dreadful numbers, including ESPN suffering its worst month in the company's history in October when it lost 621,000 subscribers according to Nielsen media estimates, the network clapped back in a big way on Tuesday.
The company detailed that while Fox Sports 1 set expectations in 2013 to "knock ESPN off" within "two or three years," per USA Today, that plan hasn't worked out so well.
"2016 marked the end of that three-year slog, so how did it work out? On a total day basis, ESPN beat FS1 nearly 5-to-1 (Nielsen data: ESPN 811K versus FS1 176K)."
Their direct competition "Fox Sports Live," hasn't been up to par either, according to the report:
"Since the "Fox Sports Live" relaunch last February, the 11 p.m. ET score is now 12-to-1 as SportsCenter delivered 692,000 viewers and FS1's show in the window attracted 55,000."

"SFY" first aired opposite the 6 p.m. SportsCenter and lost the viewership battle 8-to-1 and was quickly moved opposite Around the Horn and PTI (which curiously launched 15 years before the dawn of opinion shows), and the margin grew to more than 11-to-1 (726K versus 63K).
The final shot came to departed talent Skip Bayless, and ESPN had to be salivating before unleashing this one:
"With Skip Bayless' departure to FSI and a Super Bowl-sized promo campaign behind it, "Undisputed" was going to take down First Take. "One guy has had an impact on three different shows on two networks. It's been incredible," Fox told Awful Announcing. How incredible? In 2017, First Take is topping "Undisputed" 4-to-1 (528K to 132K)."
That is what we call a verbal beatdown: