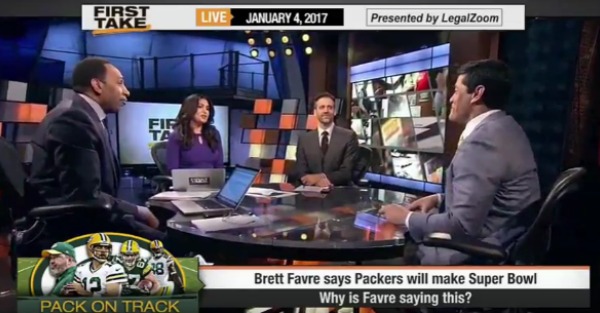 YouTube screenshot
ESPN's decision to move its First Take sports debate program from ESPN2 to the flagship ESPN channel in an effort to boost ratings is turning out to be a brilliant one.
According to early viewership numbers, Tuesday's premiere of First Take beat out its biggest competitor, Undisputed with Skip and Shannon, with a rating six times higher.
The effort was also seen as means of countering what's been a difficult 2016 for the network. In addition to cutbacks that saw more than 300 employees get laid off and ratings of its largest investment, Monday Night Football, fall some 19.4 percent, there was the loss of Skip Bayless to Fox Sports 1.
RELATED: Skip Bayless's latest embarrassment shows how bad his ratings must be
It's Bayless's new program that ESPN is fittingly targeting hardest. Bayless has been replaced by longtime boxing commentator Max Kellerman, while Bayless's former co-host, Stephen A. Smith, remains a popular fixture on the show—albeit a highly controversial one.
Clearly, then, this first round of ratings is exactly what the network had hoped for. While First Take's paltry viewership numbers had been hurting ESPN immediately after Bayless's departure, there wasn't enough drop off that the show couldn't be saved.
And this latest flip-flop appears to be the lifeline First Take was so desperately in need of.