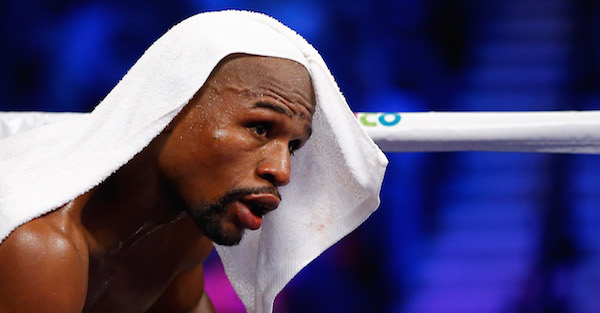 Al Bello/Getty Images
LAS VEGAS, NV - MAY 02: Floyd Mayweather Jr. in his corner while taking on Manny Pacquiao in their welterweight unification championship bout on May 2, 2015 at MGM Grand Garden Arena in Las Vegas, Nevada. (Photo by Al Bello/Getty Images)
Floyd Mayweather is officially retired as a boxer, but that hasn't stopped the undefeated fighter from making huge news. This time around, it was Mayweather coming to the bizarre defense of President Donald Trump.
In speaking with Hollywood Unlocked, Mayweather reflected on his relationship with the President and rationalized Trump's now-infamous "grab them by the pu**y" comments unearthed during his presidential campaign in 2016.
https://www.youtube.com/watch?v=hLJDbZgefIg
Here's the entire quote from that interview:
"People don't like the truth. He speak like a real man spoke. Real men speak like, 'Man, she had a fat ass. You see her ass? I had to squeeze her ass. I had to grab that fat ass.' Right? So he talking locker room talk. Locker room talk. 'I'm the man, you know what I'm saying? You know who I am. Yeah, I grabbed her by the pu**y. And?'"

"I feel people shy away from realness. This man didn't do nothing. Listen, if y'all didn't want the man in the White House, y'all should have voted the other way. It ain't like he went and robbed—he done his homework. He did what he had to do and he got there."
This is certainly troubling, but at the same time, unfortunately not particularly shocking from Mayweather. He has a history of domestic violence allegations that have pushed many to root against him in the past and, while Mayweather's friendship with Trump isn't a new revelation, this isn't going to go over well.