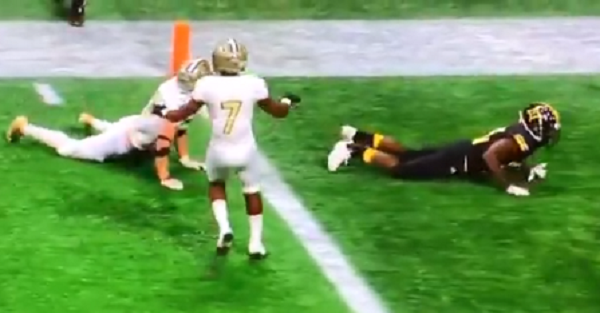 Twitter/@CodeMan10x
Officiating is maligned at every level of every sport and, for the most part, referees do an impressive job given the extremely difficult task of determining several things in the blink of an eye. Every once in a while, though, a call emerges that is both egregious and untimely and that appears to have happened in the Georgia Class 3A state championship game over the weekend.
Peach County and Calhoun faced off at Mercedes-Benz Stadium in Atlanta and, with less than four minutes remaining, Peach County trailed by a 10-6 margin while driving in for what would be a potentially game-winning touchdown. Then, on fourth down, a pass was seemingly completed… until it wasn't.
As you can see, this appears to be clearly a complete pass that would have, at a bare minimum, placed Peach County in great position to take the lead. However, it was called incomplete, ending the drive and Peach County was unable to overcome the call on the way to a loss.
Parents, players, fans and the like were outraged immediately, to the point where this is making the national rounds. In fact, The Macon Telegraph (h/t The Spun) brings word that a petition has emerged from Peach County to the governing body with oversight in the game and it includes the following.
"We are asking that the Executive Committee of the Georgia High School Association overturn the officiants ruling on the play and allow that instant replay be admissible in High school championship games. We are not asking for an apology but a change in policy."
In the end, this seems like a long-shot but we can all agree that a call was missed here and this has to be devastating for those affected.