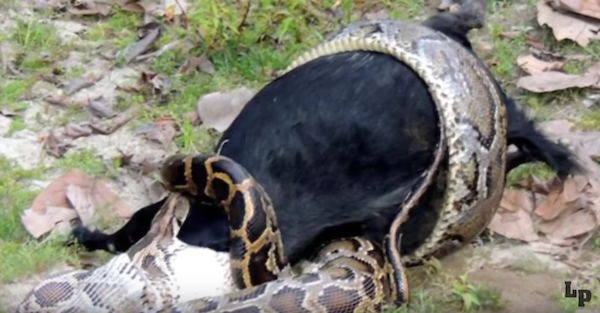 A 20-foot python in India got served up a cruel dose of irony when it attempted to devour a full-size goat, but ended up choking on it instead.
According to a report in the Mirror, villagers in Mallik Sobha Village, Jalpaiguri district in Eastern India heard a goat crying  in a nearby forest. And they were stunned by what they found—a 20-foot python wrapped around a goat, with the head already down its throat.
RELATED: A snake had a grip in a kitten, but someone came to his rescue.
They tried contacting a wildlife team for help, but they were running out of time and attempted to save the goat themselves, the report said. Ten men then tried to pull the goat from the Python's mouth, but it was already dead.
They also had to figure out how to release the python, identified as a Burmese Rock Python, back into the forest. The men tied ropes around the snake and took it on a cycle rickshaw, according to the report. That in itself is amazing since these villagers handled a massive python with the ease of a teenager picking up a yorkie. Guess they had practice.
Rohul Amin, the goat's owner, was saddened by the loss and said this isn't the first time a Python has come out of the forest and attacked large livestock.
"They have killed two to three cows, lambs and sheep in a year," he said. "I am heartbroken with my loss. I had never imagined my goat would meet with end this way."
Forest officer Narayan Kar, who was called to the scene by villagers, said the snake is one of the largest in the world.
"It belonged to one of the largest species of snakes in the world," he said. "They are known to be nocturnal rain forest dwellers, excellent swimmers and lay batches of 12 to 36 eggs at a time. This one was apparently a male."
[h/t Rare]