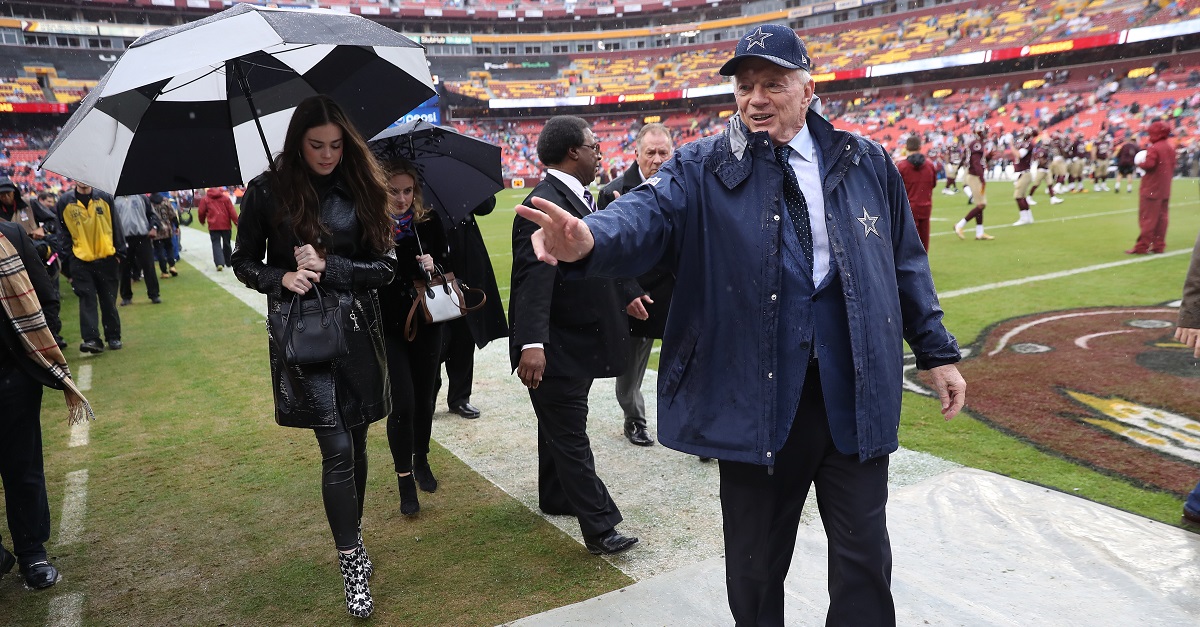 Rob Carr/Getty Images
LANDOVER, MD - OCTOBER 29: Cowboys owner Jerry Jones waves to fans prior to the start of the Dallas Cowboys against the Washington Redskins at FedEx Field on October 29, 2017 in Landover, Maryland. (Photo by Rob Carr/Getty Images)
High school football is important across the country but, in Texas, things jump to another level when it comes to attention and overall interest level. With that as the backdrop, the state championship game in that particular locale becomes something of a national event and, on Friday evening, the big story line was the play of the grandson of Dallas Cowboys owner Jerry Jones.
John Stephen Jones, playing for Highland Park High School, threw for 564 yards and four touchdowns in a 53-49 win and, while he was already seen as a high-level FBS prospect, his performance drew even more attention than anticipated. In the aftermath of the win, his father, Cowboys executive Stephen Jones, was visibly emotional.
And, on cue, so was his (very) famous grandfather.
Beyond that, though, this was a one-of-a-kind performance that happened to shatter the record for passing yards in a title game while capping what was, by all accounts, a contest for the ages. To make things even crazier, Highland Park's opponent, Manvel, came within inches of what would have been a game-winning score in the final seconds.
Something tells me we'll be hearing from John Stephen Jones again given his impressive list of scholarship offers but, at the very least, this showing will remain legendary in Texas.