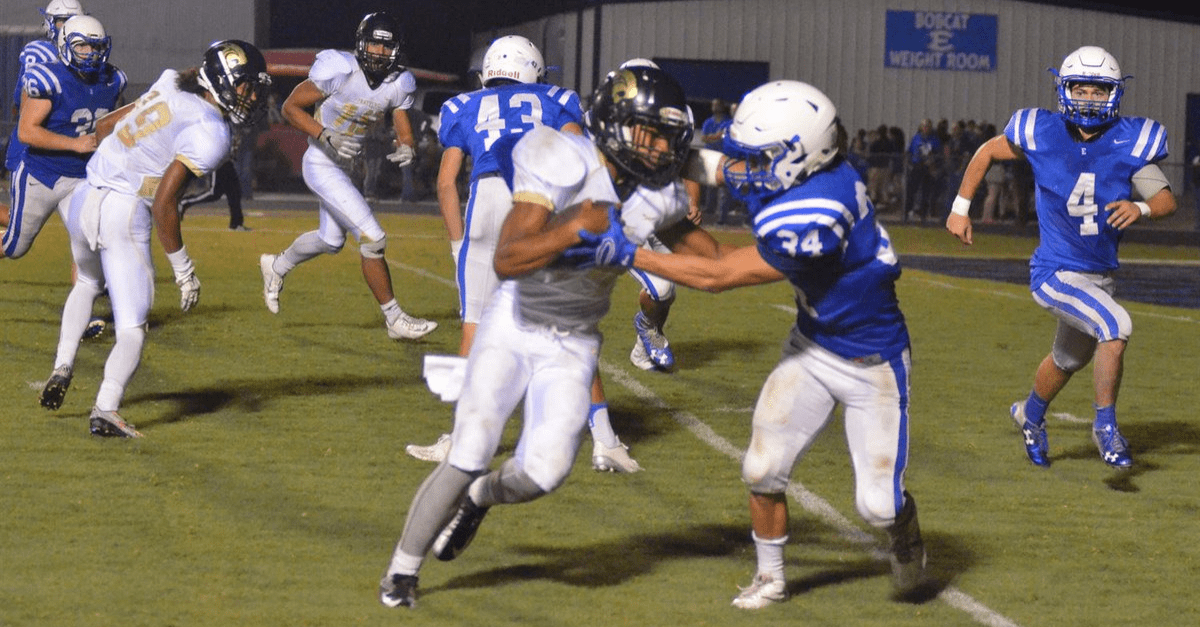 Twitter: RecruitLouisian
Twitter: RecruitLouisian
You've got to love high school football. We get 15,000-yard passers and 12 touchdown games coming out of Texas almost weekly, but the state's Cajun neighbor to the east is no slouch when it comes massive games, and two huge state records fell over the weekend.
Needing a win to make the 3A Louisiana State Playoffs, the Berwick Panthers were 4-5 heading into their regular-season finale against the North Vermillion Patriots on November 2. The Panthers walked out with a massive win and one of the state's most incredible single-game performances ever.
Senior running back Joshua Jones set two Louisiana high school state records when he gashed the Patriots for 617 yards and nine touchdowns in Berwick's 60-29 win on Friday night.
Jones only needed 27 carries to get the job done, and yeah, that's 617 rushing yards and NINE touchdowns on runs of 57, 50, 86, 90, 72, 13, 31, 17 and 44.
RELATED: Controversial TD Celebration Suspends Arizona Senior for Homecoming
According to the National Federation of State High School Associations (NFHS), Jones' Louisiana state record is the sixth-most rushing yards in American high school football history. The all-time record for rushing yards in a single game belongs to Netcong's (NJ) John Giannantonio, who posted an insane 754 rushing yards back in 1950. As far as touchdowns, John Cook scored 13 times on the ground for Beatrice (NE) back in 1912, and no one may ever come close to that one.
What's more baffling is that Jones, who now ranks fourth in the entire state of Louisiana with 2,021 rushing yards on the season, isn't a noted recruit on any major recruiting database. He also ripped Ascension Episcopal for 417 yards earlier this season, but that still wasn't enough to get him noticed.
Jones promotes his talents via Twitter, but that's as much of a recruiting profile as the 180-pound senior has going for him.
With a monster performance to get Berwick into the state playoffs, Jones has another opportunity to get himself noticed when the 22-seed Panthers take on the 11-seed Northwest Raiders this coming Friday.