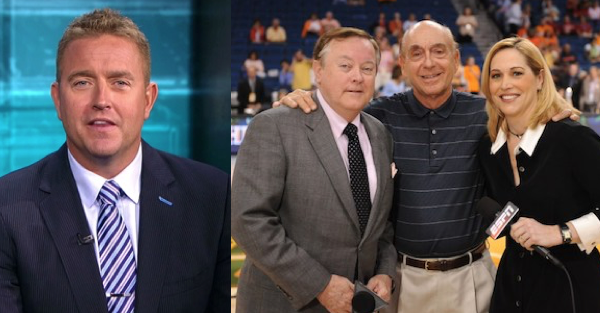 ESPN/screenshot;Scott Clarke/ESPN Images
ESPN/screenshot;Scott Clarke/ESPN Images
On Wednesday, ESPN legend Mike Patrick will step away from the company. In addition to being honored throughout the day on the network, Kirk Herbstreit took his turn to talk up Patrick's incredible 36-year career.
Just three years after ESPN launched, Patrick joined the rising network as a play-by-play guy.
Patrick wrapped up his final event for ESPN at the 2017 Liberty Bowl and will be honored during Wednesday night's Duke-Louisville game.
"It's wonderful to reflect on how I've done exactly what I wanted to do with my life," Patrick said to ESPN. "At the same time, I've had the great pleasure of working with some of the very best people I've ever known, both on the air and behind the scenes. While I'm not sure exactly what's next for me, I'm looking forward to continuing my journey with new life experiences."
ESPN's Rece Davis will narrate a tribute that will broadcast throughout the day on SportsCenter before Duke honors him separately this evening during the game.
"No play-by-play commentator in ESPN history has accomplished more than Mike Patrick," said Lee Fitting, ESPN Vice President, Production.
Patrick worked men's college basketball games beginning in 1982, was the voice of ESPN's Sunday Night Football coverage from 1987-2005, started Women's Final Four coverage in 1996, contributed to coverage of the NCAA College World Series and did much more during his tenure with ESPN.