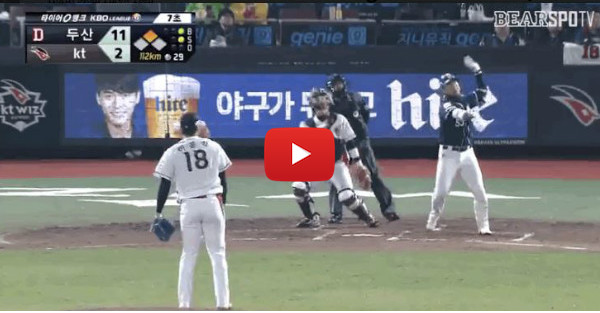 Just the other day, Hector Sanchez of the San Francisco Giants hit a grand slam and flipped his bat, an action that the San Diego Padres didn't like. Later in the game,benches cleared as a result of that action. But of the Padres didn't like Sanchez's flip, what would they have thought of this?
This may be the greatest bat flip ever seen after a homerun. This is Doosan Bears outfielder Kim Jin-hyung's 1st-career home run, and he sure made it a memorable one. Jim-hyung looks like he hit a bomb, and he just throws it in the face of the opposing pitcher to show him who's boss.
If he tried this in the states, there's no doubt about it that he would get plunked next time he stepped up to the plate. Or started a benches-clearing altercation.