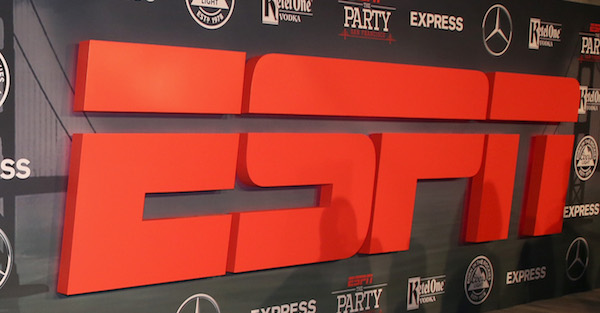 Robin Marchant/Getty Images for ESPN
SAN FRANCISCO, CA - FEBRUARY 05: TV personality Andi Dorfman attends ESPN The Party on February 5, 2016 in San Francisco, California. (Photo by Robin Marchant/Getty Images for ESPN)
ESPN's business model has been under attack for quite some time and it is no secret that the worldwide leader has been forced to lay off many, many people as a result. However, yet another bombshell is reportedly set to drop, as Richard Deitsch of Sports Illustrated brings word of more cuts that will actually impact ESPN's on-air talent pool.
SI has learned that ESPN will have significant cost-cutting over the next four months on its talent side (people in front of the camera or audio/digital screen). Multiple sources said ESPN has been tasked with paring tens of millions of staff salary from its payroll, including staffers many viewers and readers will recognize. Those with contracts coming up would be particularly vulnerable, sources said.

The company is also expected to buyout some existing contracts, which is something rare for ESPN historically beyond a few NFL talents. The cuts are expected to be completed by June. Sources within ESPN say that there is no set list of names yet and stressed that behind-the-scenes people will likely (key word) not be impacted by these cuts.
The notion that ESPN has to cut "tens of millions of staff salary" in the coming months is a breathtaking one, if only because the majority of its talent isn't bringing home seven-figure salaries. Still, Disney's stock price continues to fall and, according to multiple reports, that is largely due to ESPN's shortfall when it comes to performance against expectations.
RELATED: Report: Star ESPN reporter likely leaving for CNN
In the same piece from SI.com, Deitsch cites an ESPN spokesperson with the following statement:
"We have long been about serving fans and innovating to create the best content for them. Today's fans consume content in many different ways and we are in a continuous process of adapting to change and improving what we do. Inevitably that has consequences for how we utilize our talent. We are confident that ESPN will continue to have a roster of talent that is unequaled in sports."
ESPN remains the biggest dog in the sports media world and that probably isn't changing anytime soon. With that said, at some point the slide has to stop or the network could be in actual trouble for the first time. Until then, we are left to wonder just which of our favorite on-air personalities won't be working in Bristol for much longer.