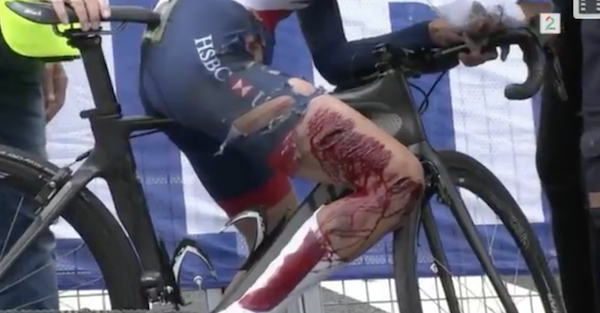 Jamie Haughey/Twitter
Lauren Dolan was competing at the 2017 UCI Road World Championships on Monday in Bergen, Norway, when she reportedly hit a pothole and crashed.
The crash sent her sliding on her right side, and her right leg suffered from road rash and lacerations to her thigh and knee according to Cycling Weekly.
Dolan still managed to finish the race despite blood running down her leg and several open wounds on her.
Dolan was on pace for a top-10 finish before the crash, but she still incredibly finished 27th despite the terrible crash.
She was taken to a hospital in Bergen for treatment for her injuries.
Dolan also celebrated her 18th birthday in the hospital, which was certainly less than ideal. But the fact that she finished the race despite sustaining a painful injury is a remarkable accomplishment.
(h/t Cycling Weekly)