Editor's Note: Products featured on FanBuzz are independently selected by our editors. However, when you buy something through our links, we may earn a commission.
I don't know how John Cena does it. Doing any physical activity in jean shorts is not a good feeling. If you've been working out in tight clothing that isn't breathable, then you probably know what I'm talking about. When it comes to running, you need athletic shorts that are breathable, moisture-wicking, and move with your body. Luckily, Nike running shorts do just that.
We rounded up ten of the best Nike running shorts for men and women. A good pair of running shorts will make running feel like a breeze. Once you get used to the breathability in these running shorts, you're going to feel much cooler and a bit less tired after a run.
What is Dri-FIT Technology?
Some of these shorts have Nike Dri-FIT technology to keep you cool. According to Nike, their Dri-FIT technology is an "innovative polyester fabric designed to help keep you dry so you can more comfortably work harder, longer."
The microfiber supports your body's natural cooling system to wick away sweat and disperses it evenly through your clothing, so it evaporates quickly. Nike recommends that you machine-wash Dri-FIT apparel with powdered detergent. For more information, visit their FAQ.
Best Nike Running Shorts for Men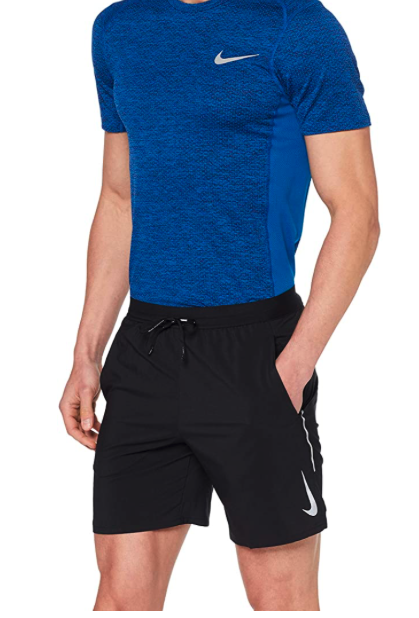 Best for: Dri-FIT running shorts & black shorts that will match everything
Nike's Flex fabric is made to stretch with your body. These shorts do feature Dri-FIT technology to keep you cool. Since it moves sweat away, your skin will stay dry. They come in sizes small through XXL.
There's a 2-way drawcord that can be worn externally or internally. Add this pair of men's running shorts to your Amazon wishlist today.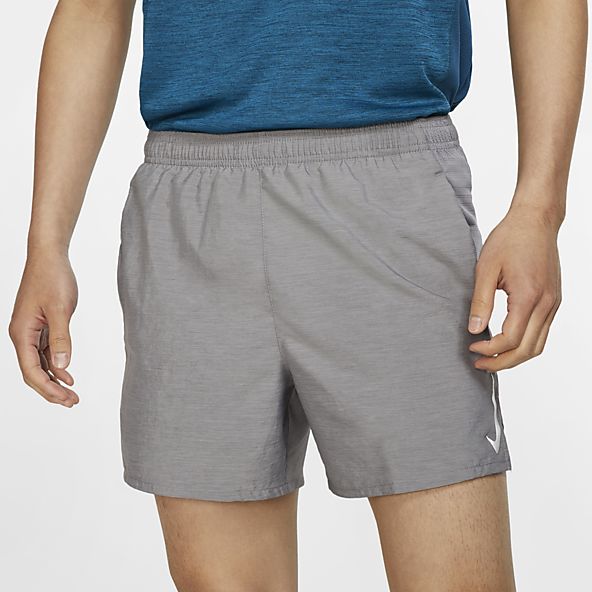 Best for: Mid-thigh shorts
If you think shopping at Nike can't be budget-friendly, you're wrong. The Nike Challenger running shorts are under $30. The shorts are sweat-wicking and offer optimal breathability. I love this fit on men. The inseam hits right at the mid-thigh.
A customer gave them five stars and said, "My favorite running shorts, owned for 3 years now, true to size. 150 lbs, 5?10?, size Medium."
RELATED: The Best Stadium-Approved Clear Bags from Fanny Packs to Totes for Game Days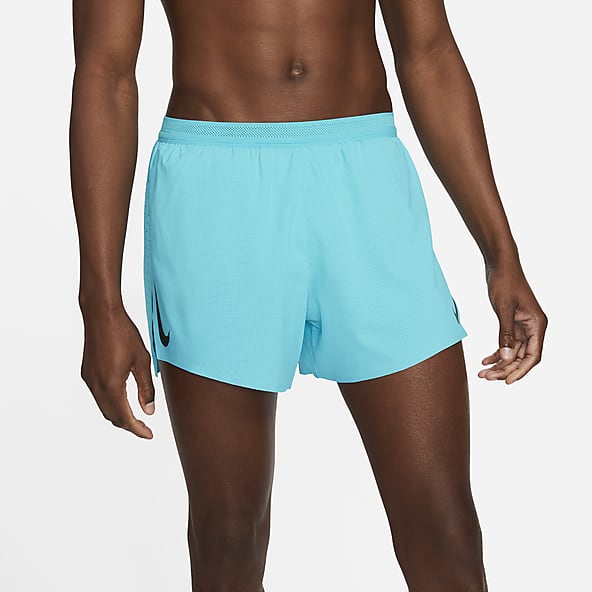 Best for: Style
Nike's AeroSwift shorts are perfect for the runner who likes to run in style. The breathable shorts have a lightweight design, which is perfect for long-distance runners. The shorts are made with sweat-wicking technology and have a ventilated waistband to help keep you cool.
A major perk is that they're made with sustainable materials. The shorts are made with at least 75% recycled fabric. A customer called them perfection and wrote, "I have 42 marathons under my belt, the perfect running shorts, all seamless."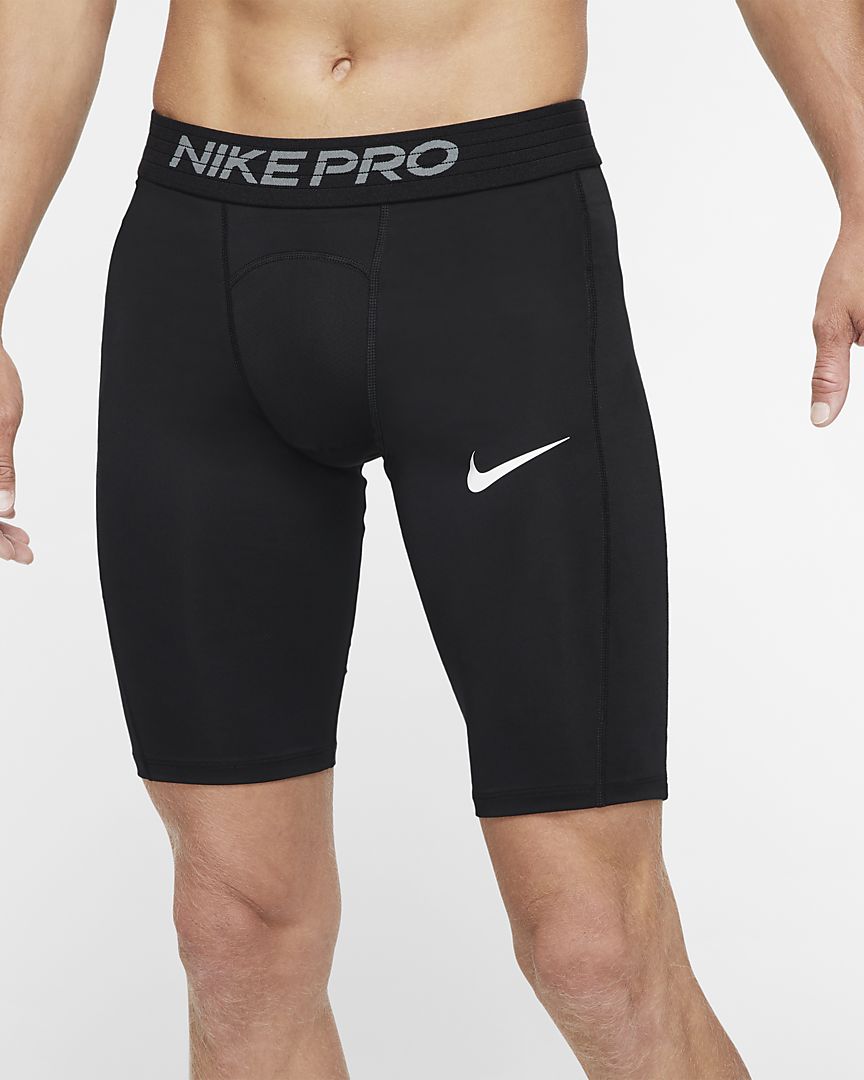 Best for: Tight shorts
Nike Pro shorts aren't for everyone, but they are popular. These $25 shorts are tight, but they are still comfy and stretchy. Even with this fit, Nike didn't have to sacrifice a sweat-wicking fabric.
Wear them as is or layer them.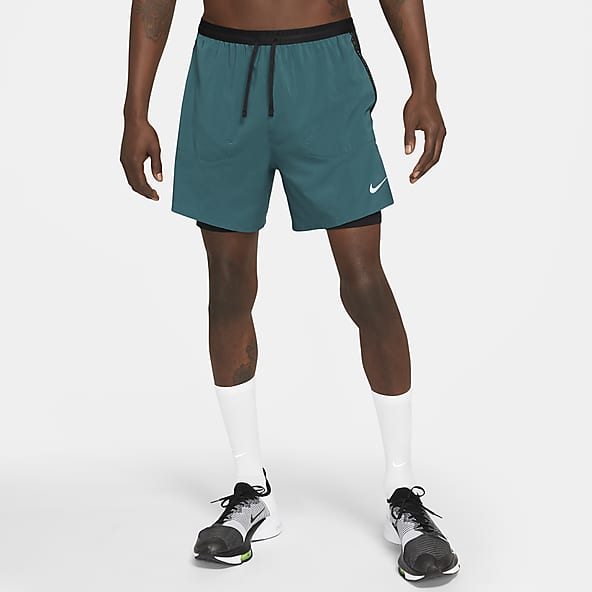 Best for: 2-in-1 shorts
The Flex Stride Run Division shorts are a bit pricey, but they're worth every penny. The 2-in-1 shorts have a woven fabric and a soft liner for support, and a pass-through tube to hold your phone (or stow a jacket).
They're also made with sustainable materials. For men's Nike big & tall apparel, check out this page.
Best Nike Running Shorts for Women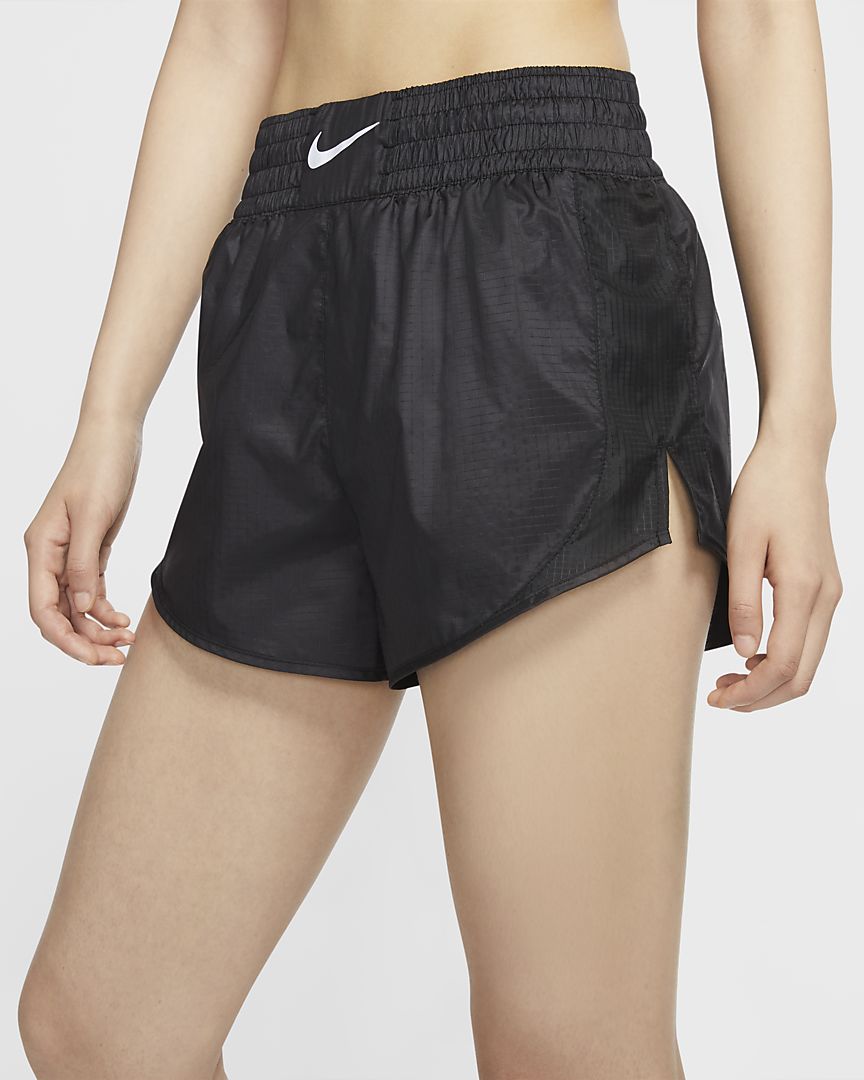 Best for: A pair of lightweight shorts
The Tempo Luxe shorts are lightweight and have a high-waist design. These shorts are pretty standard running shorts, but you'll stay cool and look stylish for under $32.
There are pockets for your phone or small Bluetooth headphones.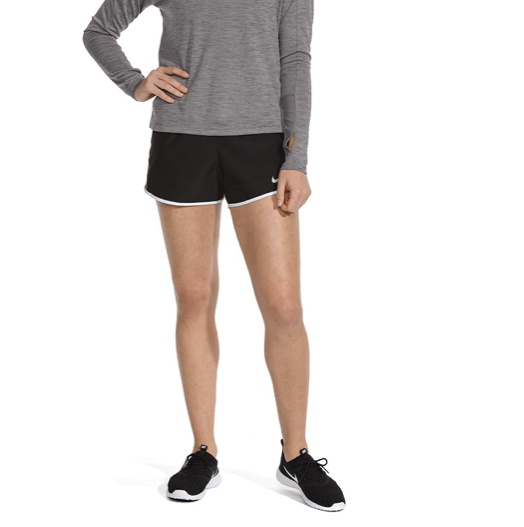 Best for: Long-distance running
Nike's 10K shorts are popular because of the curved hem. I have a pair of these shorts and prefer this hem. They're comfortable to stretch in, plus there's an elastic waistband. There are also mesh inserts for enhanced breathability.
Heather gave them five stars and said, "Excellent quality, as you'd expect from Nike, and the fit was spot on. High performance fabric that wicks well. Highly recommended."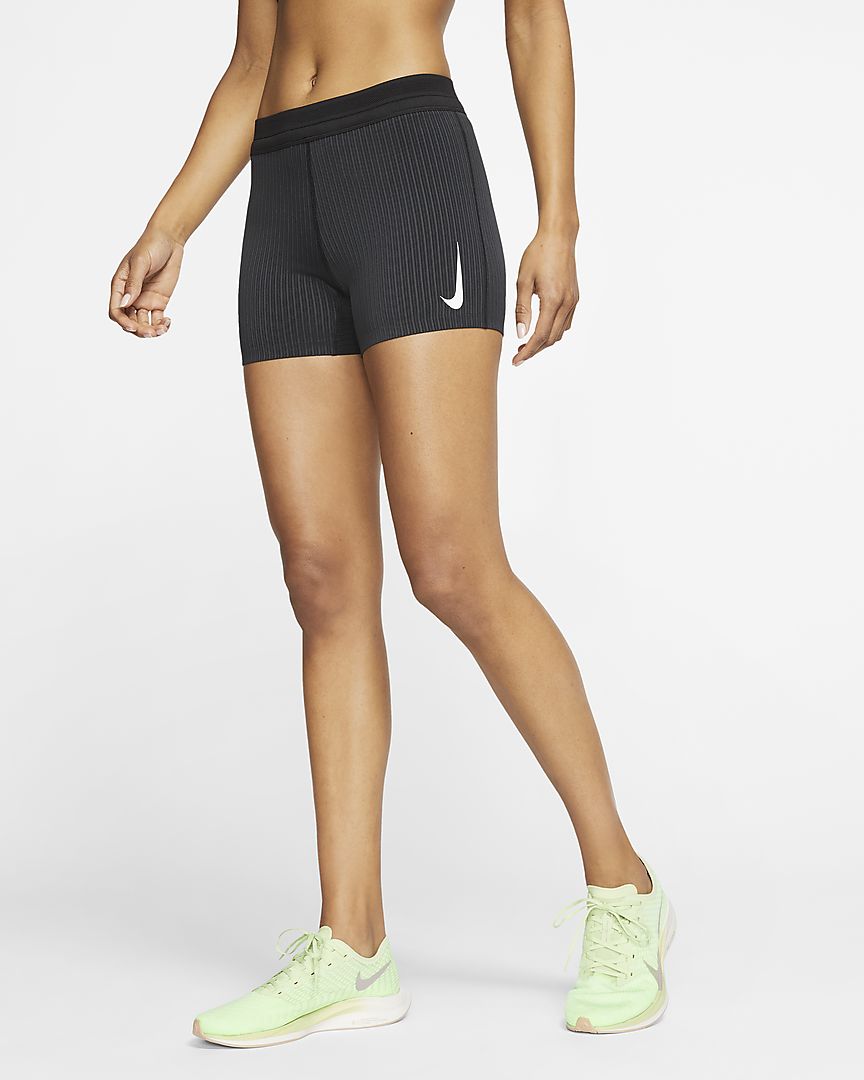 Best for: Tight & stretchy shorts
Nike's AeroSwift shorts are perfect for women who like tight, stretchy shorts. I love a good pair of tight running shorts. Personally, compression shorts make me feel more "lightweight' when I run.
A customer gave them five stars and wrote, "These are by far my favorite shorts for running. they are ridiculously comfortable and keep me cool on 5 mile runs (even in Texas heat!). I'm 5'2 and have a 26″ waist and I ordered a small. They fit perfectly!"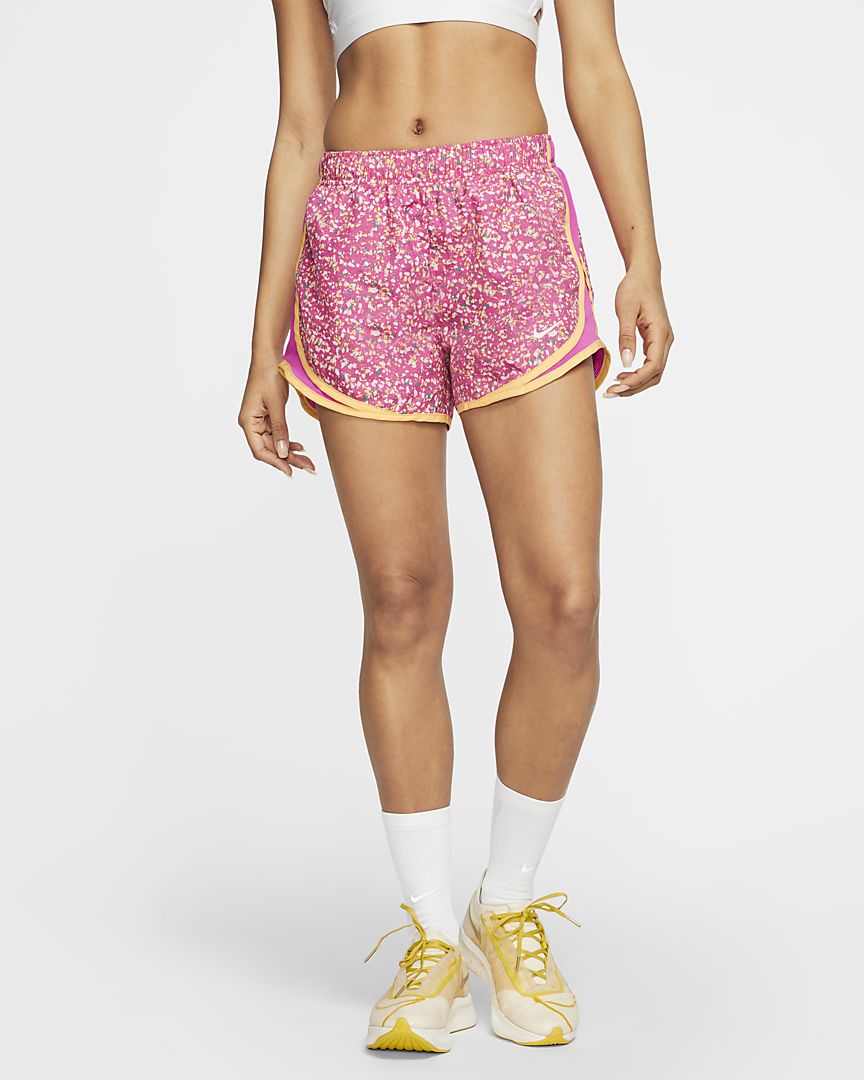 Best for: Style
The Tempo Icon Clash shorts are made with a ventilated fabric that will keep you cool. They're also made with sustainable materials. These shorts are best for style as well. Black shorts match everything, but there's nothing wrong with a cute pair of pink, teal, or yellow shorts for the summer.
A customer left a perfect rating and said, "These are SO good! My sister had some of these shorts that she wore with her bathing suit top on a recent lake trip."

Best for: Pockets & style
I love this style. The Eclipse shorts have an updated stretch-woven fabric designed to move with your body. There are also pockets for your running essentials. These shorts come in four colors.
Of course, we still love adidas and Under Armour, but these are some of our favorites from Nike. Plus, if you're wearing shoes with the Swoosh on them, you might as well match with a pair of Nike running shorts.
If you're looking for fleece shorts (for the wintertime), training shorts, running tights, visit Nike.
This post was originally published on February 10, 2021.