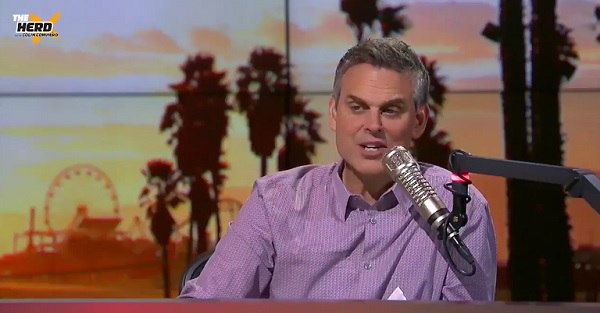 Twitter/@TheHerd
Colin Cowherd left ESPN back in 2015 after spending 12 years with the company and he knew that some sort of downfall was coming. He was on Cleveland's 92.3 The Fan to talk about some of his time at the worldwide leader in light of the massive amount of layoffs that took place Wednesday and he did not have a whole lot of nice things to say.
RELATED: ESPN taking a huge hit, expected to layoff over 100 television employees
"It's awful," said Cowherd. "It will happen annually for the next decade."
He also went on to say that ESPN overpays for products compared to FS1 and while he may be right, there's a reason for that. ESPN programs consistently outdraw FS1 shows and generally by fairly wide margins.
Cowherd said he could even point out the exact moment he knew a downfall was coming when he heard about what the company paid for the rights to NBA coverage.
"Years ago when I used to work at ESPN they signed an NBA contract," said Cowherd. "And ESPN was paying the NBA $400 million a year. It was reported as I drove to work that day, they [ESPN] had signed with the NBA for $1.4 billion.
"You cannot pay four times for the house what you paid for the house last year," said Cowherd.
That's accurate and was a huge reason why ESPN had to cut so many people. Viewers have finally cut the cord and all the people who don't watch the channel are no longer paying for it because they're streaming rather than paying for cable, which ESPN gets a cut of every month.
[h/t Sporting News]