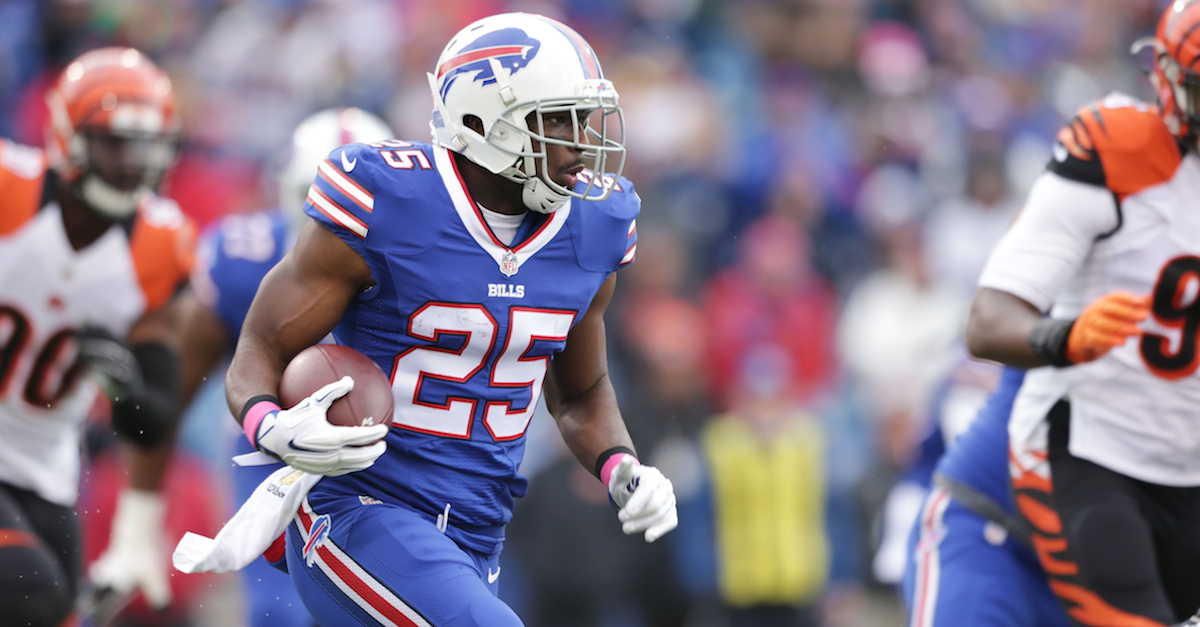 ORCHARD PARK, NY - OCTOBER 18: LeSean McCoy #25 of the Buffalo Bills runs the ball against the Cincinnati Bengals during the first half at Ralph Wilson Stadium on October 18, 2015 in Orchard Park, New York. (Photo by Brett Carlsen/Getty Images)
It looks like Buffalo Bills running back LeSean McCoy may be in the clear legally for the bar fight incident he was involved with in February. As previously reported, McCoy was allegedly involved in a bar brawl that left a pair of off-duty cops in the hospital. Some the injuries sustained by the officers included a fractured skull, broken ribs and a broken nose. Charges were expected to be filed against the current football player, but as of Monday, a Philadelphia legal blog — BigTrial.net — was the first of multiple outlets to report that prosecutors have decided not to file any charges per Pro Football Talk.
"According to multiple sources, the district attorney today will call a press conference to announce that NFL star running back LeSean "Shady" McCoy and his buddies will not face any criminal charges as a result of a Feb. 7th brawl at the Recess Lounge." The BigTrial reads.
Following this development, the Philadelphia Fraternal Order of Police sent a strongly worded letter to the Philly District Attorney's office that voiced their strong opinion that it was wrong of McCoy not to be charged.
While McCoy is looking like he'll be cleared of any legal charges, there remains the possibility that McCoy could be disciplined by the NFL, even though the league uses a much lower standard than the criminal justice system does. We will continue to update this story as it develops.
[H/T Pro Football Talk]