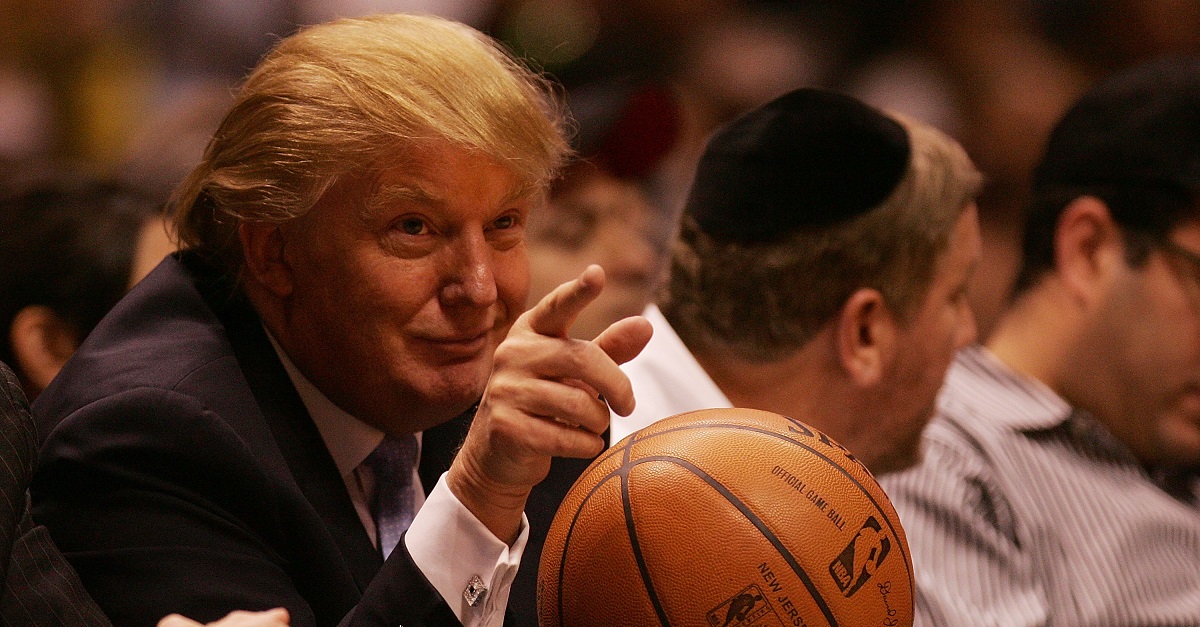 Nick Laham/Getty Images)
EAST RUTHERFORD, NJ - OCTOBER 31: Donald Trump sits courtside at the New Jersey Nets and the Chicago Bulls game at the Izod Center on October 31, 2007 in East Rutherford, New Jersey. NOTE TO USER: User expressly acknowledges and agrees that, by downloading and or using this photograph, user is consenting to the term and conditions of the Getty Images License Agreement (Photo by Nick Laham/Getty Images)
It has been a wild week in the sports world and much of the attention has been on political and social issues. Of course, that does not come as a surprise given that the President of the United States, Donald Trump, has turned his attention to sports in bashing Stephen Curry and the Golden State Warriors while deriding the entire NFL and, especially, those who kneel for the national anthem.
With that in mind, Sports Illustrated recently unveiled its newest magazine cover and, as you may expect, it references the new normal with the headline of a "A Nation Divided." Beyond that, many figures of the sports world are included but, in short, one (very) prominent athlete did not make the cut.
Yes, that is Sports Illustrated rolling out a cover like this without the presence of Colin Kaepernick, who decided to kneel as a result of personal convictions that may be actively costing him employment in the NFL.
The reactions were swift.
The absence of Kaepernick was the biggest point of outrage but SI's decision to include Roger Goodell also touched a nerve for some.
A week after San Francisco 49ers' Colin Kaepernick sat during the national anthem, the quarterback knelt in between teammate Eric Reid (also kneeling) and military veteran Nate Boyer (standing).
After Boyer, a former Army green beret, wrote an open letter to Kaepernick earlier in the week, the quarterback invited Boyer to attend the game, where the two talked for 90 minutes prior to the contest, per ESPN. That's when a decision was made for Kaepernick to support the veterans on the San Diego Chargers "Salute to the Military" night.
"We were talking to him about how can we get the message back on track and not take away from the military, not take away from pride in our country but keep the focus on what the issues really are," Kaepernick said. "As we talked about it, we came up with taking a knee because there are issues that still need to be addressed and there was also a way to show more respect for the men and women that fight for this country."
After the game, Kaepernick maintained his love for America, noted he's not "anti-American" and pledged to donate $1 million to communities in need in an effort to battle racial inequality.
Kaepernick's response after his decision to sit drew criticism was swift:
"I am not going to stand up to show pride in a flag for a country that oppresses black people and people of color," he said. "To me, this is bigger than football and it would be selfish on my part to look the other way. There are bodies in the street and people getting paid leave and getting away with murder."
The NFL replied to the controversy with a statement, saying ""Players are encouraged but not required to stand during the playing of the National Anthem."
Something like this is never going to please everyone but it does seem quite odd that Kaepernick was omitted and Goodell (among others) was included. What Sports Illustrated does in response will be intriguing to monitor.