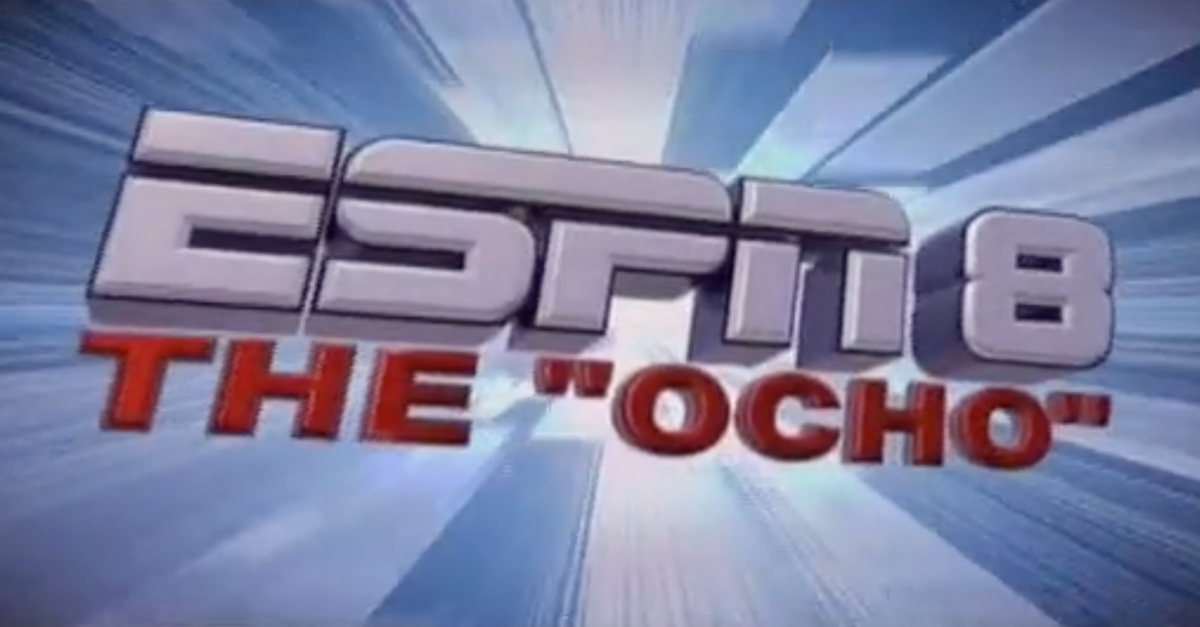 Vimeo: Dodgeball "ESPN 8-THE OCHO" Sequences
Vimeo: Dodgeball "ESPN 8-THE OCHO" Sequences
Late summer sports can really be a slow, agonizing climb back towards the start of football season. The Major League Baseball trade deadline has come and gone, preseason football looms, and LeBron James is busy opening schools rather than carrying the Los Angeles Lakers.
For the second year in a row, ESPN will dedicate a full day of coverage on August 8, 2018 to the obscure sports, the seldom seen sports, and the downright weird sports. If it's almost a sport, they're going to bring it a television set near you.
Inspired by the 2004 movie "Dodgeball: A True Underdog Story," ESPN will transition ESPN 2 from traditional sports coverage to a day full of the strangest competitions they could find renaming the station, ESPN 8: The Ocho.
Lesser known sports like sumo wrestling and Major League Eating take center stage in place of traditional sports programming.
Last year, ESPN U was the home of the fabled programming special, but the broadcasting company has decided to make this year's Ocho coverage on its more readily available channel, ESPN 2.
It's a bold strategy, but we'll see how it pays off for them.
[vimeo 12861660 w=640 h=480]
It hasn't been confirmed if Pepper Brooks and Cotton McKnight will be available for commentary of the fabled event list.
While traditional sports are in a lull, what better time to remind us that you can make almost anything a sport if you make up some rules, hire a referee and start rolling a camera.
I don't know what Kabaddi is, or how you judge the Amazing Games, but you can guarantee I'll be tuned all day Wednesday to drink in the weirdest sports under the sun.
Full Programming on "The Ocho"
Midnight "Dodgeball: A True Underdog Story"
2 a.m. SkyZone Ultimate Dodgeball Championship
3 a.m. US Open Ultimate Championships
4 a.m. Spikeball East Tour Series
5 a.m. Cornhole: ACL Pro Invitational
6 a.m. 2006 Johnsonville Brat Eating World Championship
6:30 a.m. 2006 Krystal World Hamburger Eating Championship
7 a.m. World Championship of Ping Pong
8 a.m. Fenway Hurling Classic
9 a.m. Amazing Games: Spain
9:30 a.m. Amazing Games: Korea
10 a.m Premier League Darts
11 a.m E:60
Noon SportsCenter
12:30 p.m. Amazing Games: England
1 p.m. Kabaddi
2 p.m. The Saber Legion 2018: Awakening
3 p.m. World Sumo Challenge
4 p.m. Women's Flat Track Derby
5 p.m. Best of Chess Boxing
6 p.m. Moxie Games
8 p.m. 2018 Dodgeball World Cup
10 p.m."Dodgeball: A True Underdog Story"