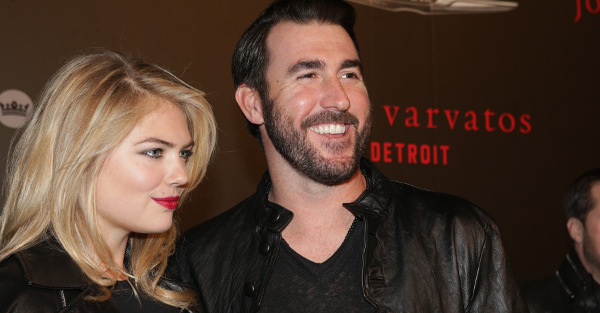 attends John Varvatos Detroit Store Opening Party hosted by Chrysler on April 16, 2015 in Detroit, Michigan.
Justin Verlander, we all hate you. Not because we're all White Sox fans, no. It's because you just got engaged to one of the hottest women ever and we can never be you.
Justin and Kate Upton have long been an item, but they're making it official as Kate announced their engagement after she was seen sporting a rock on her finger.
Kate told E! News that she's been engaged for a while now, but wanted to keep it on the DL (down low, not disabled list):
"I'm really excited, he asked me right before season started so we've been keeping it on the down low for quite a while. So I'm excited to finally be able to share it with the world!"
The two have been dating since 2013 and have yet to make wedding arrangements.
[h/t FTW]