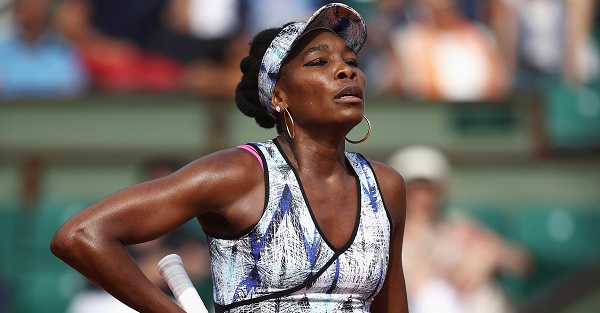 Julian Finney/Getty Images
PARIS, FRANCE - JUNE 04: Venus Williams of the United States reacts in her women's singles fourth round match against Timea Bacsinszky of Switzerland during day eight of the French Open at Roland Garros on June 4, 2017 in Paris, France. (Photo by Julian Finney/Getty Images)
Serena Williams has been in the news a great deal in recent days but her sister, Venus, might be in some hot water if a report is proven to be true. TMZ Sports uncovered what is a reportedly a police report that paints Venus Williams as being at fault for a car accident that eventually led to the death of a 78-year-old man in Palm Beach Gardens, Florida.
The police report states that "[Venus] is at fault for violating the right of way of [the other driver]. TMZ indicates that the eyewitness (and wife of the now-deceased man) says Williams' SUV "darted into the intersection" which led to the cars colliding in the intersection.
The man who passed away, Jerome Barson, reportedly was taken to the hospital for treatment for head trauma and he passed away two weeks after the accident. His wife was also injured, though she survived.
The report notes Williams was neither under the influence nor operating the vehicle while "distracted by an electronic device."