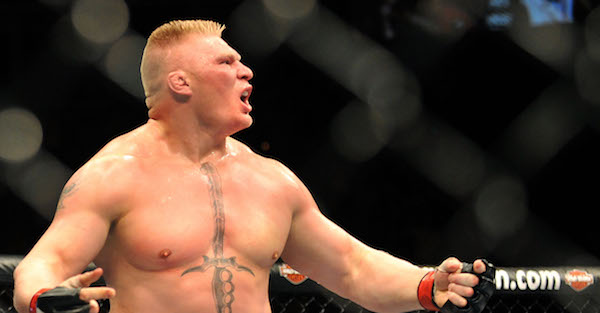 Frank Mir against Brock Lesnar during their heavyweight title bout during UFC 100 on July 11, 2009 in Las Vegas, Nevada. (Jon Kopaloff/Getty Images
RELATED: The WWE may be on the verge of adding another star to its stable
---
Apparently the WWE and UFC are in a battle of "who can bring over whom" that I, for one, am excited about.
Now that long-time wrestler Brock Lesnar is jumping back into the UFC foray in a one-time shot with Mark Hunt, the WWE is looking to cash in on a major acquisition of its own. According to Forbes, by allowing Lesnar to fight with Hunt, they're likely to get something in return:
According to sources, WWE is hoping that by allowing Lesnar to compete at UFC 200 (and perhaps beyond) it will open the doors for some things in return from UFC. Mainly WWE is hopeful for two things in return.
Those two things are, reportedly, SummerSlam promos by UFC and UFC stars to appear at the event. Who would WWE want in their crossover matchup?
Ronda Rousey certainly comes to mind.
The same report states WWE is eyeing Wrestlemania 33 for Rousey's return to the ring.
Wow.
[h/t Uproxx]