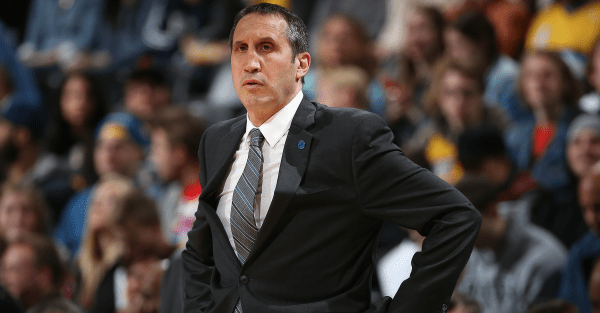 Chris Haynes of Cleveland.com has details of why the Cleveland Cavaliers fired coach David Blatt despite the 30-11 record for the team. The Cavs are leading the East by a wide margin and have looked pretty dominant outside of losses to Western Conference powerhouses of the Spurs and Warriors.
Haynes specifically says player accountability, mismanaging, a building frustration and the absence of hope led to David Blatt's ouster. Blatt had an 83-40 record in his one-and-a-half seasons at the helm. These three paragraphs from Haynes are really the most damning of Blatt's tenure as head coach.
"During the first portion of the 2014-15 season, film sessions were a topic of discussion among the players. Blatt was reluctant to criticize star players even when they clearly messed up a play. This became routine. It got so bad that I'm told that Lue finally intervened, stood up and demanded that somebody rewind the footage so that he could get on members of The Big 3.

During team scrimmages, players competed aggressively but bit their tongues as Blatt frequently blew his whistle to call ticky-tack or phantom fouls for his go-to players. One player said sometimes Blatt didn't even have a whistle and would yell at the top of his lungs to stop play and call a foul if one of his stars acted as if he was hit.

It was viewed as a blatant attempt to get in the good graces of his top talent. Blatt's leadership was in question. Players grew tired of this treatment. The locker room started resenting Blatt's handling, or lack thereof, when it came to dealing with his stars."
This is just embarrassing and clearly demonstrates that the Cavs pulled the trigger too soon when they hired the coach before signing LeBron in the summer of 2014. That isn't on Blatt though and it just goes to show why Cleveland can't have nice things.
Cleveland.com also learned that Blatt almost didn't even survive 2015 either after a 26-point trouncing the Cavs took from the Blazers despite Damian Lillard not even playing. There were also several instances of Blatt freezing up during timeouts and wasting time to draw up plays. There were even times when he wasn't the one drawing up plays at all! There was also a specific instance when Blatt tried to bring in Tristan Thompson in the closing minute of a blowout and the bench had to step in and tell him to sub in Brendan Haywood.
The beatdown the Cavs took at the hands of the Warriors on national television most recently was a catalyst for the firing as well. Should the Cavs keep their lead in the Eastern Conference, newly minted head coach Tyronn Lue will likely get to coach the Eastern Conference All-Stars in Toronto for the All-Star Game.