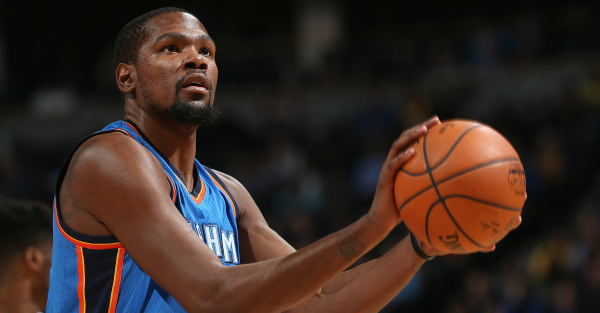 Some people have reported that the Los Angeles Lakers could land Kevin Durant and Russell Westbrook over the next two years, but they'll have to compete with the Golden State Warriors according to Adrian Wojnarowski of Yahoo! Sports. He describes the Warriors as a "serious threat" to sign the superstar this summer assuming the Thunder don't win a championship in that time.
Bobby Marks — who is The Vertical podcast with Wojnarowski — describes a nine-step process the Warriors would have to pull off in order to make that happen. It basically includes getting rid of crucial pieces like Andrew Bogut, Harrison Barnes, and Finals MVP Andre Iguodala. So the question really becomes: are the Warriors willing to get rid of a bunch of pieces so they can sign one guy to a max deal?
Wojnarowski also says that Durant isn't close to making a decision and that he isn't leaning one way or another, but the Warriors could very well pull off one of the greatest free agent coups in recent history and are willing to clean out the roster to do it.