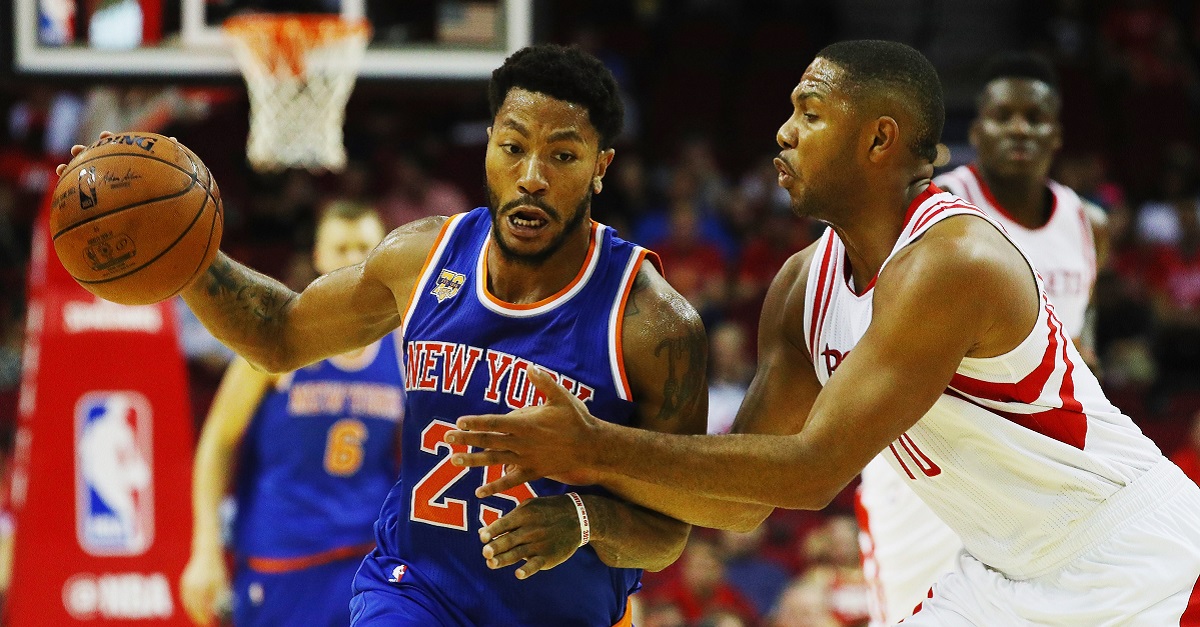 Scott Halleran/Getty Images
HOUSTON, TX - OCTOBER 04: Derrick Rose #25 of the New York Knicks drives with the basketball against Eric Gordon #10 of the Houston Rockets during their game at the Toyota Center on October 4, 2016 in Houston, Texas. NOTE TO USER: User expressly acknowledges and agrees that, by downloading and or using this Photograph, user is consenting to the terms and conditions of the Getty Images License Agreement. (Photo by Scott Halleran/Getty Images)
Derrick Rose was just cleared yesterday of any liability in the civil rape case against him. It was alleged that he and two friends gang raped a young woman at her apartment in Los Angeles in 2013. The civil suit was filed two years after the alleged incident and it has just come to a close.
RELATED: Derrick Rose and Knicks get good news as civil rape case comes to an end
However, while the Knicks and Derrick Rose are likely celebrating the verdict, the public relations team was clearly nowhere to be found as jurors were taking pictures with Rose after the trial finished.
That's just a bad look all around. If the juror are taking pictures with the defendant after a case like this you have to believe that they might have been bias when it came to their decision. Rose isn't going to say no to pictures with fans, but someone should have stepped in and stopped this. Maybe someone like his attorney, who's also in on the action.