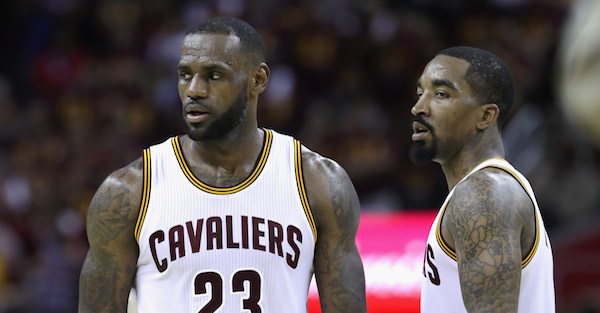 Ronald Martinez/Getty Images
CLEVELAND, OH - JUNE 10: LeBron James #23 and J.R. Smith #5 of the Cleveland Cavaliers during play against the Golden State Warriors in Game 4 of the 2016 NBA Finals at Quicken Loans Arena on June 10, 2016 in Cleveland, Ohio. NOTE TO USER: User expressly acknowledges and agrees that, by downloading and or using this photograph, User is consenting to the terms and conditions of the Getty Images License Agreement. (Photo by Ronald Martinez/Getty Images)
The Cleveland Cavaliers have lost five of their last seven games — including Monday's 124-122 loss to the Anthony Davis-less New Orleans Pelicans, and LeBron James is not happy.
Related: Furious LeBron James calls out roster, management after latest loss
James wants the Cavs' front office to add talent and depth to the roster, which he referred to as "top-heavy."
According to Forbes, LeBron wants the team to improve at the backup point guard position, and the Cavaliers are targeting Rajon Rondo, Deron Williams and Jameer Nelson. The Cavs don't have anyone at backup point guard in their rotation at the moment, and it's unclear what they would have to give up to secure one of the aforementioned players.
The Cavaliers already traded for Kyle Korver—likely to fill the void left by J.R. Smith after he was injured. LeBron also had an interesting insight that explains why he's pushing for improvements.
"I don't got no time to waste," James said. "I'll be 33 in the winter and I ain't got time to waste. That's what I'm talking about. … When I feel like physically and mentally, me personally, can't compete for a championship no more or I feel like I can't do it, then I won't have this problem. But until that happens, and it don't seem like no time soon…"
The trade deadline is Feb. 23, so the Cavs have a very short window to add to their roster if they want to repeat as champions.
(h/t CBS Sports)