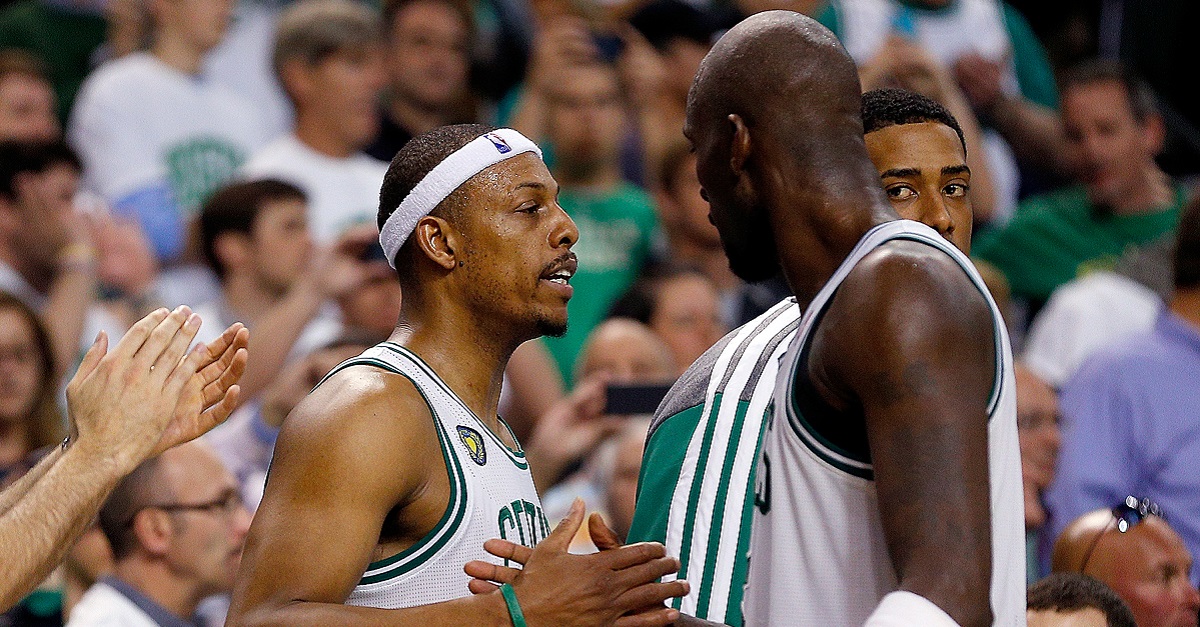 Jim Rogash/Getty Images
BOSTON, MA - MAY 3: Paul Pierce #34 of the Boston Celtics and Kevin Garnett #5 exchange words in the final moment in the 4th quarter in Game Six of the Eastern Conference Quarterfinals of the 2013 NBA Playoffs on May 3, 2013 at TD Garden in Boston, Massachusetts. The Celtics lost 88-80. NOTE TO USER: User expressly acknowledges and agrees that, by downloading and or using this photograph, User is consenting to the terms and conditions of the Getty Images License Agreement. (Photo by Jim Rogash/Getty Images)
With all of the future Hall of Famers retiring this year like Tim Duncan, Kobe Bryant and Amar'e Stoudemire there needs to be a couple of guys left over from the 1990s to pass the torch on to the young guns. Fortunately, there's still a couple of guys who are staying behind like Kevin Garnett (for now), Vince Carter and now Paul Pierce for sure.
RELATED: Kobe's last game set an unreal sales record
Pierce had been contemplating retiring, but it seems that he's very much interested in being the Clippers' only reliable small forward for another season as that has been Doc Rivers' weakness — signing a good small forward. Pierce could have joined a couple of legends, but it looks like he wants to be inducted into the Naismith Hall of Fame a year or two after some of his buddies.
RELATED: Tim Duncan calls it a career
Pierce has averaged 20 points, 1.3 steals, 3.6 assists and 5.7 rebounds per game in his 18 seasons in the league. He's a 10-time All-Star and of course is most known for bringing Boston its 17th championship with Ray Allen, Rajon Rondo and Kevin Garnett in 2008. Pierce has never been known as one of the more athletic forwards, but he always finds a way to score and has come to be synonymous with the pump fake and flailing for a foul — and it works more often than not.
Pierce was a Boston Celtic for most of his career until 2013 when he was traded to the Brooklyn Nets that summer where he played for one season and then headed to Washington before landing with the Clippers where he's been since this past season.