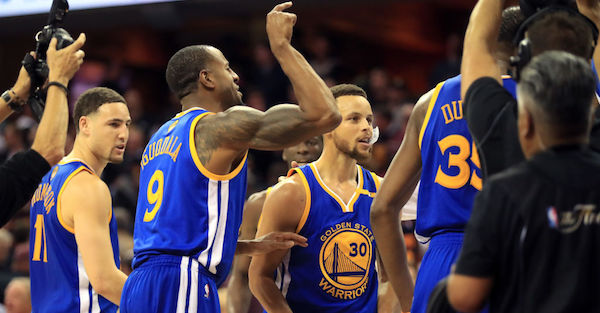 Ronald Martinez/Getty Images
CLEVELAND, OH - JUNE 07: Stephen Curry #30 of the Golden State Warriors celebrates with teammates after defeating the Cleveland Cavaliers in Game 3 of the 2017 NBA Finals at Quicken Loans Arena on June 7, 2017 in Cleveland, Ohio. NOTE TO USER: User expressly acknowledges and agrees that, by downloading and or using this photograph, User is consenting to the terms and conditions of the Getty Images License Agreement. (Photo by Ronald Martinez/Getty Images)
The Golden State Warriors are aiming to win their third title in four seasons in 2018, and they are attempting to bring back as many pieces from the 2017 team as they can.
Despite potential cap space concerns, the Warriors and veteran wing Andre Iguodala have agreed to a contract extension, according to Tim Kawakami of the San Jose Mercury News.
The contract is expected to be a multi-year agreement worth somewhere between $8 and $12 million per year. The 33-year old Iguodala was the NBA Finals MVP in 2015 after a stellar postseason against the Cleveland Cavaliers, and he has been an instrumental member of the Warriors' second unit over the last four seasons.
Related: NBA living legend leaving the defending champion Warriors for a ?challenge? with another team
Iguodala's last deal was a four-year, $48 million deal in 2013. At 33, this is most likely his last chance at a big contract, and Kawakami reported that guaranteed years was the main thing the two sides needed to negotiate.
"Iguodala has already indicated that his negotiation is almost already done and that he will re-sign with the Warriors, though I?m sure there are still deal points to be finalized," Kawakami wrote. "Months ago a source indicated to me that the only real issue to be worked out was the number of guaranteed years."
Iguodala's numbers don't necessarily indicate how valuable he is to the Warriors. He logged 26 minutes per game in 2017 and only averaged 7.6 points. But he leads the second unit, and he is still an elite perimeter defender despite his age.
The Warriors are keeping Steph Curry, Klay Thompson, Kevin Durant and Draymond Green together for the foreseeable future, and they will likely be the favorites to win the NBA title as long as those four are together. But Iguodala's presence on the team and for the bench unit is vital for their success in the regular season and the postseason.
(h/t 247Sports)