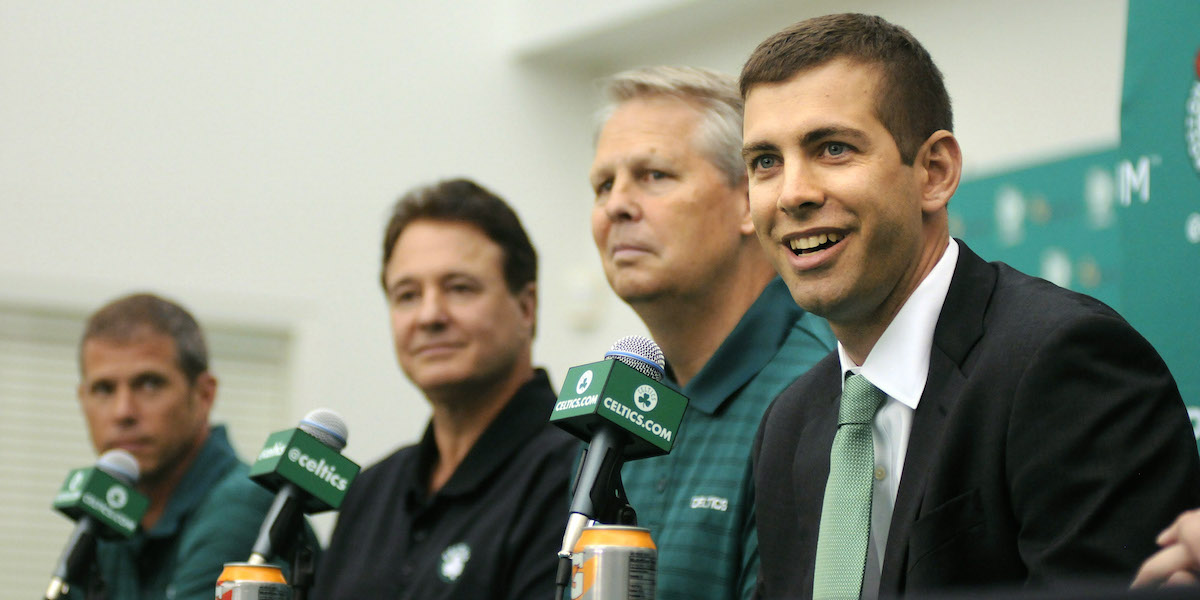 Darren McCollester/Getty Images
WALTHAM, MA - JULY 5: New Boston Celtics head coach Brad Stevens (R) is introduced to the media as Team President Rich Gotham, Co-Owner Steve Pagliuca, and President of Basketball Operations Danny Ainge look on July 5, 2013 in Waltham, Massachusetts. Stevens was hired away from Butler University where he led the Bulldogs to two back to back national championship game appearances in 2010, and 2011. (Photo by Darren McCollester/Getty Images)
The Boston Celtics have made a splash this offseason with the additions of free agent forward Gordon Hayward and No. 3 overall pick Jayson Tatum.
However, the Celtics may have a few more tricks up their sleeve.
According to Chris Mannix of Yahoo! Sports, Boston is keeping tabs on New Orleans Pelicans center Anthony Davis, who remains under contract through 2020.
"It figures to be an interesting season in Boston. The addition of Gordon Hayward fortified a top-seeded roster, while dismal seasons by the Nets (who will fork over their 2018 first-round pick) and Lakers (who owe Boston their ?18 pick if it falls between Nos. 2 and 5) will help the Celtics continue to build for the future. In addition, rival executives expect Boston to be keeping close tabs on New Orleans, which is entering a critical season. The Pelicans are committed to seeing if an Anthony Davis-DeMarcus Cousins frontcourt can work, but if the season goes awry, it?s widely believed the Celtics will make a strong run at Davis, who is under contract through 2020."
Davis has stated his loyalty to the Pelicans in the past, however, it may be a realistic option to entertain the Celtics' trade inquiries. New Orleans has Cousins under contract until he becomes an unrestricted free agent next summer.
The Pelicans also recently committed an estimated $126 million to point guard Jrue Holiday, while the rest of the supporting cast is lacking and funds are limited.
Could the Celtics pull off a blockbuster trade and land "The Brow" before he hits the free agency market?