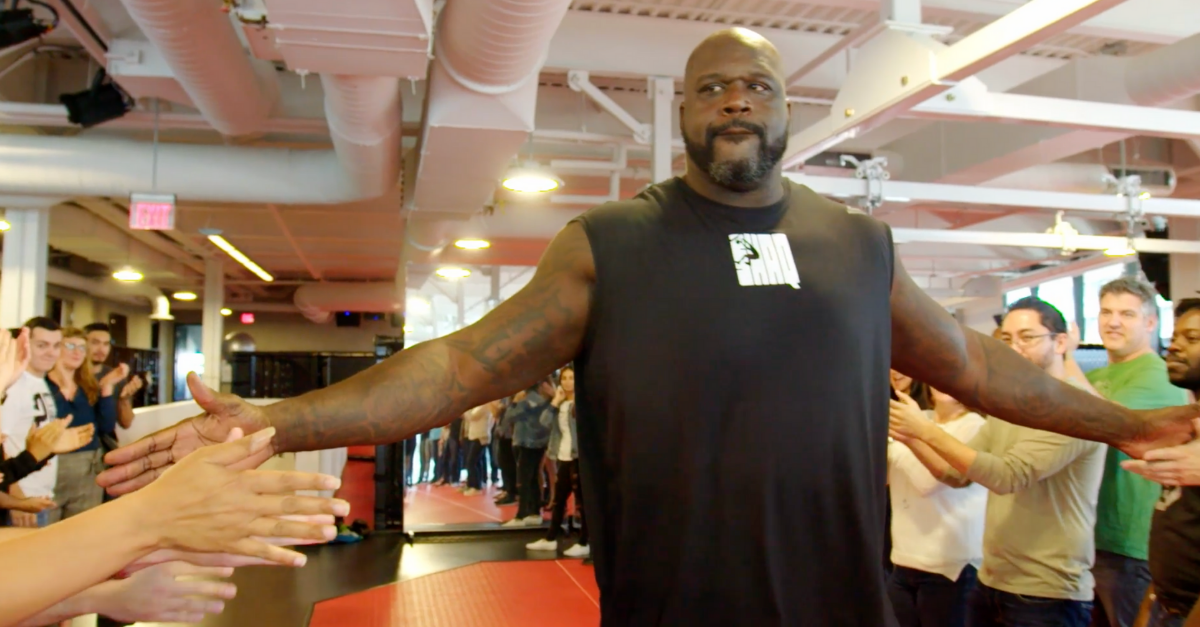 Facebook: Big Chicken Shaq
By now, unless you have been living in a cave for the last 30 years, you realize Shaquille O?Neal is one of the largest humans alive. He?s 7-foot-1 and probably a biscuit away from breaking your everyday bathroom scale. The Naismith Memorial Basketball Hall of Fame member is also one of the nicest people you will ever meet, too, but that doesn?t mean facing him in the UFC Octagon would go very well.
On the next ?Big Chicken Shaq? episode ? a new and popular interactive series exclusively on Facebook Watch that follows the Big Aristotle as he works toward opening his first restaurant in Las Vegas called Big Chicken ? the NBA legend, who is a big fan of mixed martial arts, gets in the Octagon with UCF Hall of Famer Forrest Griffin.
Needless to say, even the promo doesn?t look too promising for the 6-foot-3, 205-pound Griffin at the UFC Performance Center.
RELATED: Shaq is Huge, But The Diesel?s Net Worth is Even Bigger
Look, it doesn?t matter if Griffin has more experience, including 26 wins in Dana White?s famous UFC, the 46-year-old O?Neal has almost a foot and at least 120 pounds on him. Of course it?s not going to end well.
But it?s not a matter of how Griffin does. It?s a matter of how long YOU would last against Shaq.
Let?s set the stage here with some rules and guidelines:
? You have to face 7-foot-1, 325-pound Shaq.
? It has to be an official UFC Octagon.
? Shaq, being the nice man that he is, goes about 20-30 percent.
? You get one free punch to start the first round.
? If anyone says they would last more than one round (five minutes), you have full permission to punch them.
No matter how big you are, how much you can put up at the gym, or your high school 40-yard dash time, YOU ARE IN AN OCTAGON WITH ONE OF THE LARGEST HUMANS ALIVE! He will catch you and make you tap out almost immediately.
So, how long would you last in the UFC Octagon against Shaq? Anything over maybe 60 seconds would be nothing short of a miracle here.