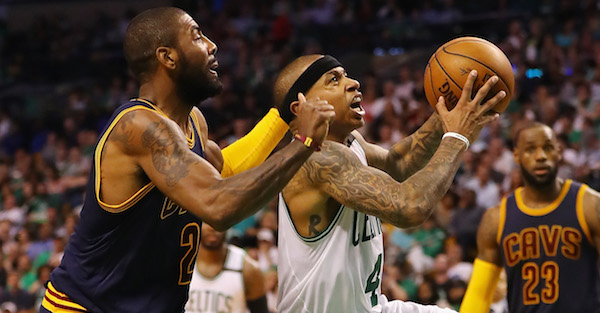 Elsa/Getty Images
BOSTON, MA - MAY 17: Isaiah Thomas #4 of the Boston Celtics drives to the basket against Kyrie Irving #2 of the Cleveland Cavaliers in the second half during Game One of the 2017 NBA Eastern Conference Finals at TD Garden on May 17, 2017 in Boston, Massachusetts. NOTE TO USER: User expressly acknowledges and agrees that, by downloading and or using this photograph, User is consenting to the terms and conditions of the Getty Images License Agreement. (Photo by Elsa/Getty Images)
It may not take long for another "Woj Bomb" to drop relating to the extended trade talks between the Boston Celtics and the Cleveland Cavaliers.
According to ESPN's Adrian Wojnarowski, officials from Cleveland and Boston engaged in talks in order to come to a solution on the trade involving Kyrie Irving, Isaiah Thomas and several other players.
Last week, the Cavs and Celtics reportedly reached a deal on the trade, but several reports have indicated that there are a few kinks to be worked out before the move becomes official — among them Cleveland's request to acquire more of Boston's top young prospects such as Jaylen Brown or No. 3 overall pick Jayson Tatum or a future draft pick.
According to Wojnarowski, however, the Cavs are no longer seeking either of the two players, but are still trying to land one of the Celtics' first-round picks as compensation for shipping Irving, a multi-time all-star point guard.
Both teams have until 10 a.m. ET Wednesday to report and submit a physical for the players involved in the trade, as well as a 10 a.m. deadline for players to pass their physicals, per league rules.
Wojnarowski also confirmed that uncertainty surrounding Thomas' health status is also a factor that has stalled the reported deal. However, Thomas told ESPN on Tuesday that he is confident that he'll be able to return from his labrum injury, which he believes will not have a long-term impact on his career.
"There's never been an indication that I wouldn't be back, and there's never been an indication that this is something messing up my career," Thomas told ESPN. "Maybe I am not going to be back as soon this season as everyone wants me to be, but I'm going to be back, and I'm going to be the same player again. No doctor has told me anything different than that."